Create a new version of a song by mixing separate singer voices together is very useful in many audio/music projects. There are many tools which are able to mix voices, but it's a challenge for all audiophiles to find one capable of producing high-quality and natural mixes. For this reason, we want to show you one of the easiest way to mix voices using the advanced AV Music Morpher Gold.
To know more about AV Music Morpher Gold (MMG), you can read our detailed review.
CNET rating:
The full version with more pro function is $99.95. Don't wory, you can get it with the Music Morpher Gold 40% coupon!
Step 1: Edit voice(s) on waveform
Run Music Morpher Gold >> Click on Editor tab.

On AV Wave Editor, click Open File button to import the song you want to mix voices.
*Note: You can check out the song once again by clicking Play button on the Player panel.
Use Equalizer feature to enhance the quality of the song. Here, you can adjust bands, tempos and add morphing effects as you prefer.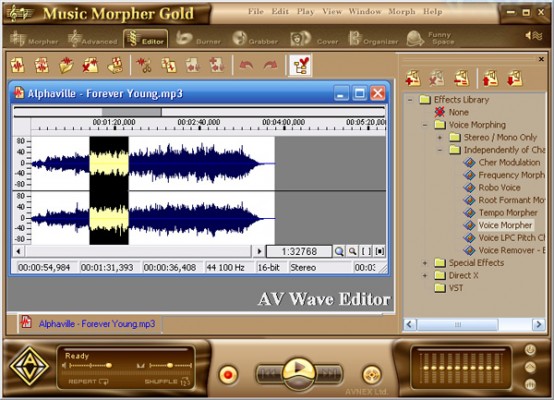 Once you're satisfied with it, select a part of vocals to morph to clicking and dragging the mouse >> Click Copy button (or Ctrl+C).
Step 2: Extract singer's voice from the song
Click New File >> Paste (or Ctrl+V) to paste voice part you copied on a new window.
On the right window, open Effect Library >> Voice Morphing >> Stereo/Mono only >> Voice Extractor (Center Filtering Method)
When Voice Extractor dialog box pops up, adjust the sound parameters from the sliders. Then, click OK.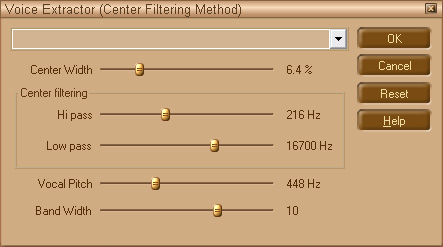 Now, just wait for a few seconds for all settings to be applied. Click Play to preview your song.
Read more: How To Remove Singer's Voice In A Song
*Note:
To prevent the voice from bring morphed twice, tick to choose None in Effect Library.
Step 3: Morph & mix the voices
Open Effect Library >> Voice Morphing >> Independently of Channels Quantity >> Voice Morpher.
When Voice Morpher window appears, adjust Timbre and Pitch levels as your taste.
On menu bar, click Window >> Paste Mix to mix the voices
Click File >> Save/Save As to save your final product.
If you want a full version with full function, please get it with the Music Morpher Gold 30% discount
CNET rating:
Play more to know how to add effect to Music Morpher Gold