Maybe you like the music of a song but can't stand the lead singer?
Do you want to make your own karaoke tracks by removing the vocals from your favorite songs?
Here's how to use the advanced AV Music Morpher Gold to remove the vocals from most music tracks in a few simple steps.
Note: AV Music Morpher Gold is an all-in-one music editor featuring bunches of audio editing/morphing tools for any DJ. This program costs $99.95, but you can grab it at 30% cheaper price exclusively at Music Morpher Gold discount page or Download free trial & get activation code to try.
Step 1: Add the song(s)
Click AV Music Morpher icon on your desktop to run the program.

Choose Morpher tab (1) and click File menu to open the file you want to remove voice (2).
Tips: You can also use Open From Library, Add Files to Playlist, or Add Folder to Playlist button (3) to add the file to playlist.
Click Play to listen to the song(s).
Step 2: Adjust audio settings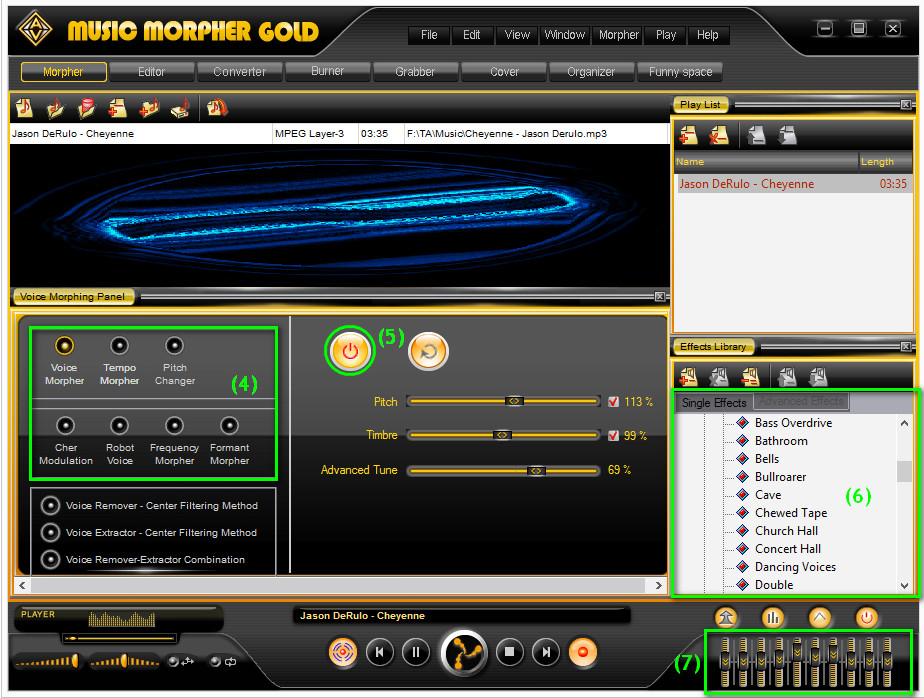 AV Music Morpher Gold offers users a wide variety of high-quality settings/effects that you can apply instantly on the main panel, such as:
Voice Morpher/Timbre-Pitch Changer/ Tempo Morpher (4)
Note: Click On/Off button to activate each setting (when the button turns red) (5)
A rich library of unique audio effects (6)
Advanced Equalizer session (7)
You can select all available presets of AV Music Morpher to modify all the settings to your taste before going to removal step.
Step 3: Remove singer's voice
Tick to choose Voice Remover (Center Filtering Method) (8) > Activate this session (9).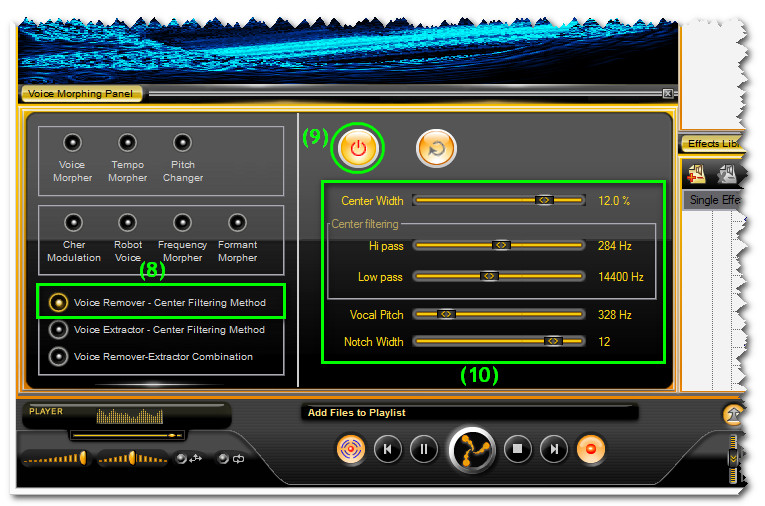 There are 3 main control elements:
Center Width: to analyze the difference between the right and the left channel. Singer's voice is removed gradually when you move this slider more to the right. This is also the strongest parameter.
Center Filtering: to decide the total sound of a song. Move High Pass filter slider to the left to reduce more voice. Meanwhile, Low Pass filter  decreases noises and make the quality purer once you move its cursor to the right.
Vocal Pitch: to modify the fundamental frequency of the singer's voice signal. Listen to the song carefully while you move the slider, and stop when you hear the output that you're satisfied most.
Then, move Notch Width slider to the right to remove more sound and vice versa. A setting of 8 is highly recommended.
Note: The vocal pitch of male singer is around 250Hz, and vocal pitch of female singer is around 720Hz. You can use the left or right button on the keyboard to move the slider more accurately.
Step 4: Morph the song
Click Morph Selected Files button (11) > A dialog box will appear.
Select output folder and format for your song (12) > Click Morph (13).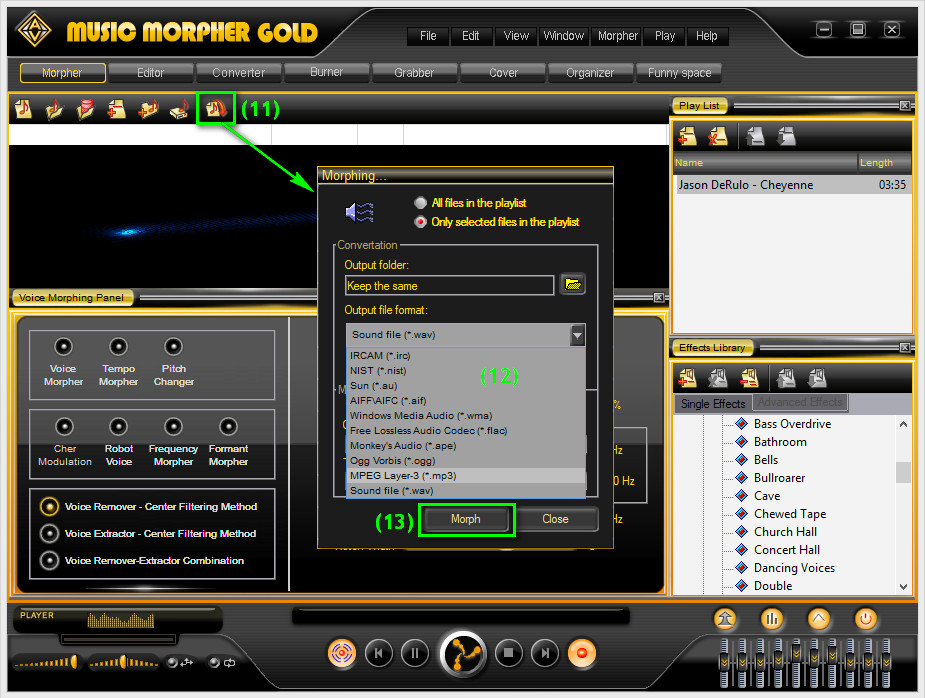 Note: The quality of the output depends on how the original file was recorded/mixed. Some stereo recordings may prevent complete voice removal. Therefore, users should not expect 100% satisfaction in all attempts.
In the previous post, I wrote how to remove vocal from any song by manually edit audio wave form. This tutorial is other easy way to do that. Please check out this video tutorial for quick guide: