AV Voice Changer Software Diamond 9 is the latest version released by Audio4fun.com. This program is known for its capability of changing human voice completely with cutting-edge voice changing technology. Here are new features included in version 9.0:
New Voice Morpher features all updated controls, including slider improvements.
Keyboard navigation and spin-box support make your slightest adjustments more precise and accurate.
Intelligent, user friendly interface now makes morphing process is much easier with the new colorful navigation buttons.
This new interface also supports touch screen technology.
New cleanly designed Voice Recorder is friendlier and offers an easier way to complete every recording task.
Record and preview your work in just 1 window.
Built-in audio editor allow you to edit your morphing results partially or wholly Quickly accesses 7 Voice Types and 11 Voice Qualities that immediately change your voice sample's characteristics.
Note: Read more about AV Voice Changer Software Diamond 9
This tutorial will show you most basic and important steps to modify your original voice using Voice Changer Software Diamond. There are 2 main ways to change voice: Fundamentally change timbre and pitch, change voice using instant "nickvoice". In addition, users can also use Voice Beautifying to create natural voice, and embellish output quality.
# Change voice timbre and pitch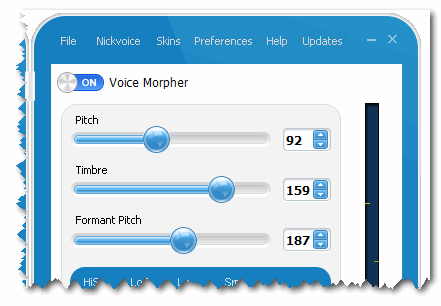 On the main panel, you can see 3 big sliders allowing us to adjust Timbre, Pitch and Formant Pitch. Their default settings are 100%. The modification combination of these 3 settings will bring significant changes to your voice.
The lower Pitch adjustment levels, the deeper voice we can get (e.g: deep male voice); the higher values result in higher voice tone (e.g: baby voice, childish voice)
The lower Timbre levels the deeper and stronger sound we have (e.g: old man voice); in contrast, the higher adjustments result in lighter voices (e.g: baby child voice)
Formant Pitch holds the "correcting" function which lets users modify voice without affecting its quality.
# Change voice using instant "nickvoices"
Voice Changer Software Diamond 9 provides users a huger library of sample voice output (or "nickvoices") with almost 60 nickvoices. It includes male to female voices, female to male voices, and other special voices for movie making purposes.
Moreover, users can also add their own customized "nickvoices" by selecting Load nickvoice:
Click Save to save your newly created nickvoice (under *.nvc file) for later use.
Click Load to load a pre-saved nickvoice (*.nvc) file.
Click Reset to revert Voice Morpher to its default settings.
# Produce natural voice output
Voice Beautifying (or Voice Equalizer) has 4 precise shifters: HiS – High Stretch(Default 1%); LoS – Low Stretch (Default 1%); Ls – Low Shift (Default 0Hz); Sm – Smooth(Default 12).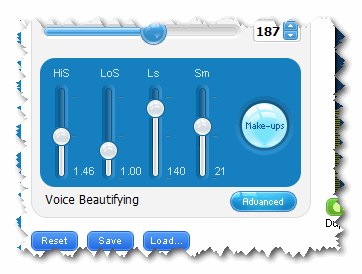 These settings bring various frequency rates for the voice quality. Such frequency ranges control the "tissues of vocal cords" and reproduce rich voice qualitiesas soft talking, falsetto singing, and qualities such as rough, aphonic, breathy, creaky, hoarse, etc.
Note: Shifting the LoS and Ls too high or too low may change the voice-input accordingly higher (female, boy) or lower (male).
On the right side of this session, Make-ups comprises of 2 groups: Voice Types (which are preset combinations of one or more Effect plug-ins), and Voice Qualities (which are customizable presets for the Equalizer made up by filtering varied bands). You can Save your customized presets (under *.eq file) for later use and Load them when needed.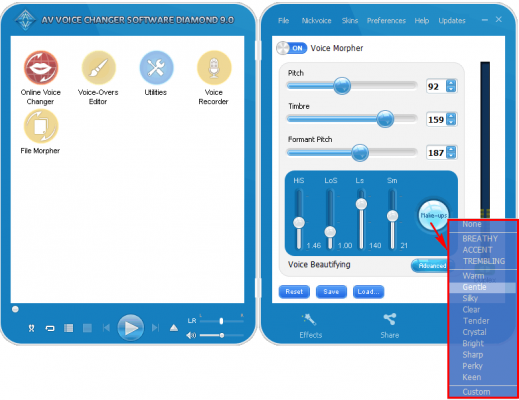 Another plus point of this advanced voice changer is that it features a wide variety of voice effects for easing your voice changing tasks. You can click Nickvoice >> Non-human voice to open Effect settings window.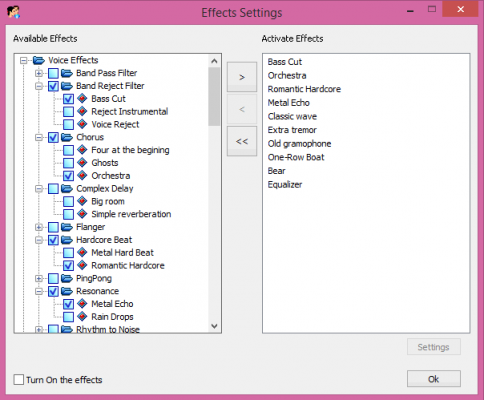 These are main features of Voice Changer Software Diamond version 9 that easily let you create most natural fake voice ever. Take your time discover this fantastic program and make nice plans to troll your friends via online chat tools with the morphed voices. Have fun!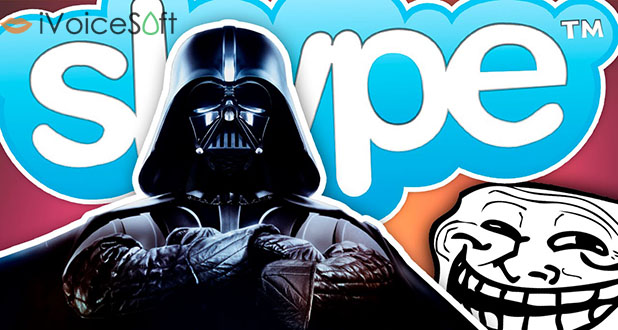 How to chat in Darth Vader voice in Skype