Need a chasing voice to make your audio/video project sound more professional? We can help you!
In today's tutorial, we will show you one of the easiest way to create chasing voice using the advanced Music Morpher Gold from Audio4fun. To know more about this program's interesting features, you can read our full Music Morpher Gold review here.
Let's get started!
Related tutorial to AV Music Morpher Gold
Step1 : Open your song
Run Music Morpher Gold >> Choose Morpher tab.
On menu bar, click File >> Open or Open From Library (1) >> Browse for the file you want to open.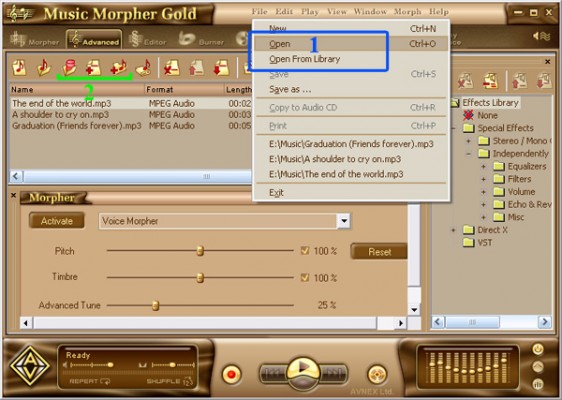 *Tip: Alternatively, you can use Open From Library, Add Files to Playlist, and Add Folder to Playlists buttons (2) to open you file.
Optionally, you can use the program's built-in player to take a listen to the file before morphing.
Step 2: Enhance audio file
On the right column, you can enhance the quality of your audio file using Music Morpher Gold's rich list of effects and settings. Equalizer is especially designed for improving the sound of music.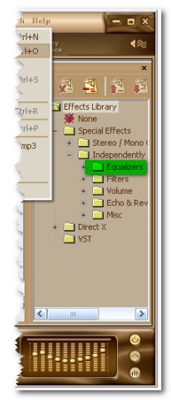 Step 3: Create chasing voice
Double click on Effect Library >> Expand Special Effects >> Stereo/Mono Only >> Echo & Reverb >> Delay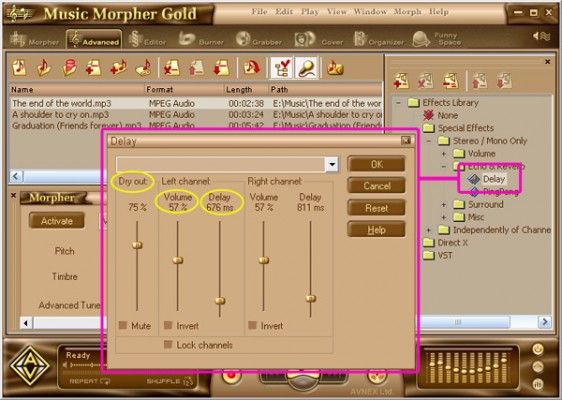 Volume slider adjusts the volume of delayed signal.
Delay slider sets time of delay sound for repetition.
Dry out slider modifies sound quality (the higher the better)
Step 4: Morph the song
Click Morph Selected Files button on Playlist toolbar to open Morphing window. Then, select Output folder and Output File Format >> Morph.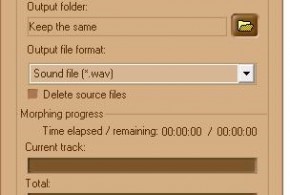 That's it! You now have a chasing voice for your new audio/movie project. Try this out with other files to see surprises. Enjoy!
See more: