Seeing the arising popularity of Ventrilo, We will bring you an interesting tip – making funny voices – to have fun in Ventrilo with voice changer. Today's tool-of-choice is AV Voice Changer Software Diamond (VCSD).
What do you need?
*Note:
The full version of AV Voice Changer Software Diamond is available at $99.95. Buy you can get 30% discount here
Step 1: Turn on VAD mode in VCSD
Run Voice Changer Software Diamond program
On the main panel, click Preferences (1) menu to open VCS Settings window >> tick to choose Virtual Driver Mode (VAD) (2) >> OK (3)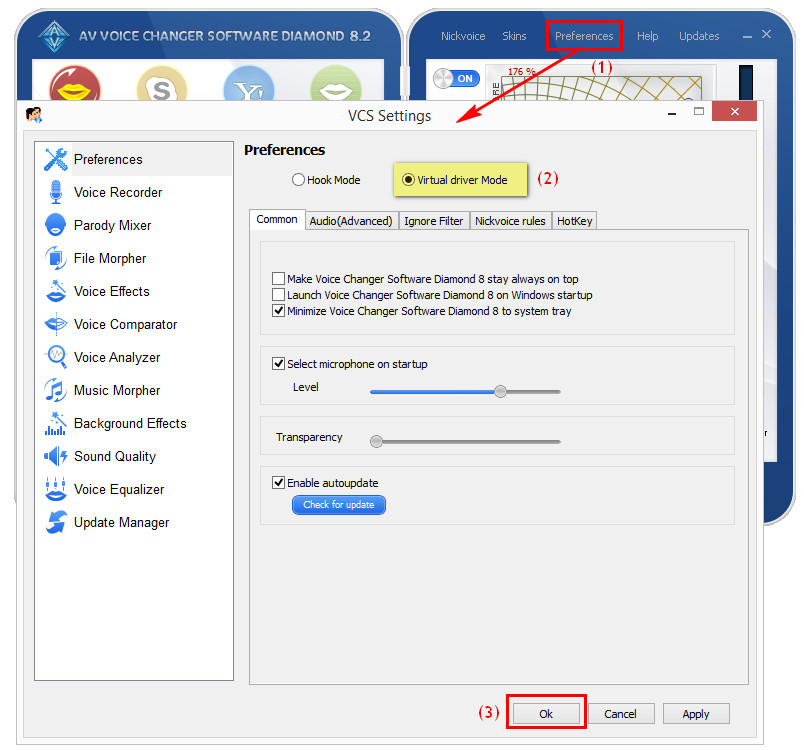 VAD mode is now applied to the program as your default audio driver.
Step 2: Get your voice ready
Install your headset or microphone to your PC and test how it works.
On the main panel of VCSD, turn on Voice Morpher feature (4) to use Timbre and Pitch graph (5) to change your voice.
Get more detail about how to do that at this example video and a example for Chipmunk voice
*Note:
Turn on Duplex (6) to test how your voice changes immediately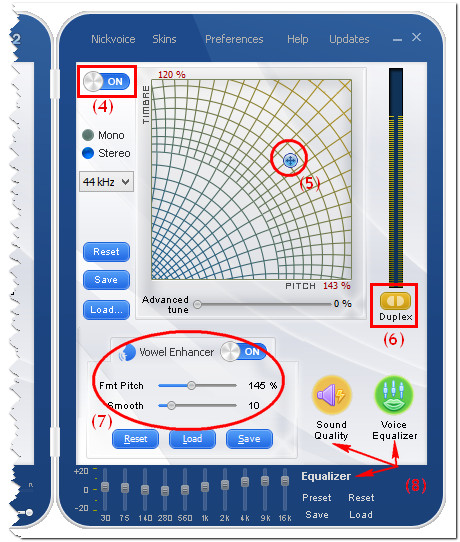 If you still want to improve your voice output, take advantage of other advance morphing features included in VCSD, like:
Vowel Enhancer (7) to smoothen the voice
Sound Quality, Voice Equalizer and Equalizer (8) to improve the audio file and help your voice sound more natural.
Step 3: Configure audio settings in Ventrilo
Run Ventrilo program >> Click on Set Up button (9)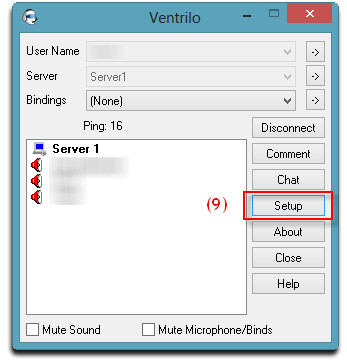 In Voice tab, select Microphone (Avnex Virtual Audio Device) (10) as your audio driver in Input Device dropdown list >> OK (11)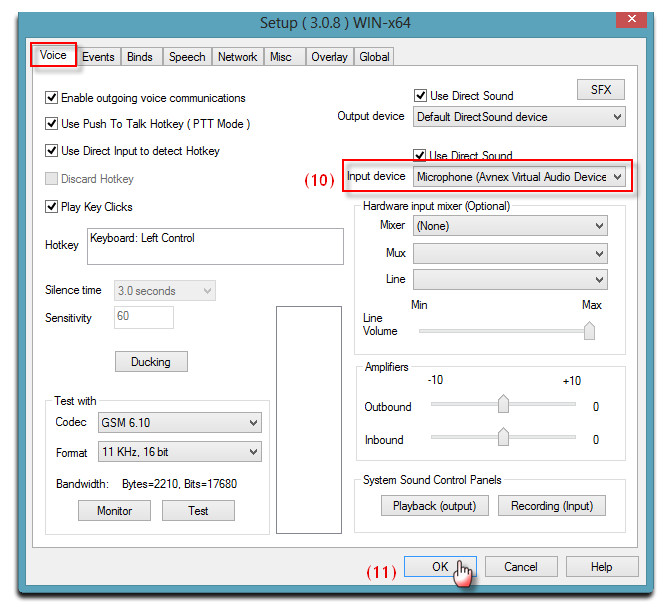 Step 4: Start calling with your new voice
Go back to your voice chat session in Ventrilo.
Now your voice has been changed with all the morphing effects made in previous steps. You can call any of your friends and family members to surprise them with how strange your voice is.
*Note:
Please notice that as long as the Voice Changer Software Diamond is On, the morphing effects will be applied to your voice automatically. To be back to normal instantly, you will just need to turn the voice changer software OFF.
Ventrilo is a client-server voice communication or Voice over Internet Protocol (VoIP) program that allows multiple Ventrilo client applications, connected to a single Ventrilo server, to communicate in real-time. This software is chosen by online gamers, business professionals, and even families or friends.
May you like also:
Create terrible voices for Halloween with Voice Changer Software