There are many software program out there can assist users in changing their voice completely. The developing technology helps every new program more unique and their abilities seem unlimited. However, we frankly think AV Voice Changer Software Diamond is quite outstanding among all because it doesn't only provide a frequently updated sample voice output menu (a.k.a. "nickvoices") like other software, this voice changer even allows us to import our own customized nickvoices to enrich this list and to serve various voice changing purposes.
Typically, Voice Changer Software Diamond (VCSD) is able to change our voices in different ways, including Voice Morpher module or the quick use of built-in nickvoices. For more details about this cool program, you can check out several voice changing tutorial we've guided so far using VCSD:
Note:
Voice Changer Software Diamond is available in stores at $99.95. But as an iVoiceSoft's reader, you can get the program at a special 30%!
In this tutorial, we're showing you a nice way to import any type of nickvoice you like to the program for immediate use later, so that you won't ever be limited by the provided ones only!
Step 1: Locate VCSD's "Save" folder
'Save' folder is the location where VCSD configuration is stored, so whenever you import a new customized nickvoice here, VCSD will automatically recognize and show it in Nickvoice list.
Path to 'Save' folder:
In Windows 2K/XP/2003 >> C:\documents and settings\%username%\application data\avnex\vcs8\save
In Vista and Windows 7 >> C:\Users\PC\AppData\Roaming\Avnex\VCS8\save
Tip:
To enter this folder, type %appdata% in Run dialog box or Start menu search box. Then go to avnex\vcs8\save subfolders.
Step 2: Copy nickvoice components to "save" folder
Go to 'Save' folder as instructed  above.
Copy new nickvoice file (.nvc) to this folder.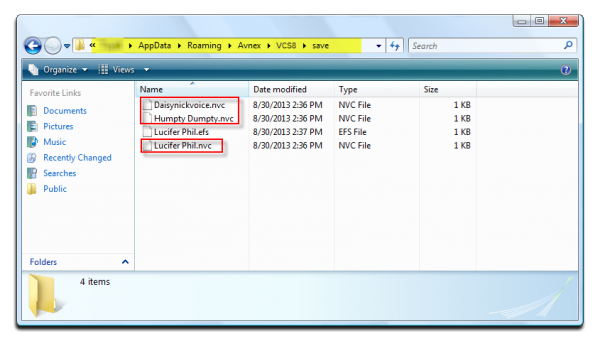 Also, copy nickvoice's component settings (*.eq, *.fmnt, *.veq, …) to this folder.
Note:
It is recommended to add multiple nickvoices for various choice.
Step 3: Load pre-saved nickvoice
Return to the main panel, click on Load (1)>> choose Saved nickvoice to load (2) Or Browse (3) to other saved nickvoice on your computer.
A list of pre-saved nickvoice(s) will show up (2). Like other presets, all new settings will be applied immediately once you select the nickvoice you want to use for the project.
Get Giveaway every day!