If you're looking for a video effects software that offers you're the opportunity to edit, enhance, and modify the video file. Well, you've found one. Wondershare Filmora Video Editor (download Filmora For Windows/MAC here) is one of the handiest software out there that holds the possibility to turn your video files to professional-looking movie effortlessly in minutes, thanks to its ready-to-use 300+ gorgeous filter effects.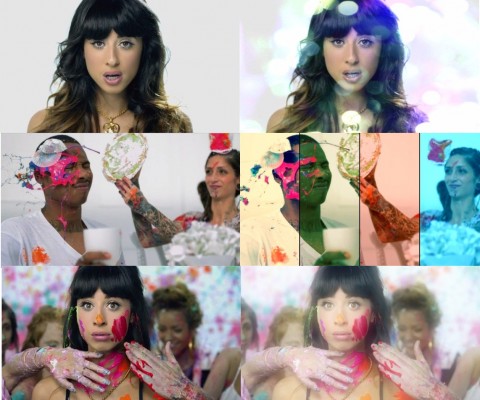 In this article, I'll show you how easy it is to use Wondershare Video Editor to add special effects to your video clips. There are only 3 simple steps to follow.
Read more: How to Put Multiple Clips In One Video Screen, Step-By-Step
Step 1: Apply built-in effects
Run Wondershare Video Editor > Choose Full Feature Mode > Import your video.
Drag your video to the video track of timeline (1) > Click Effect button (2).
Step 2: Customize effects as you desire
Wondershare Video Editor allows you to customize effects in different ways, such as by changing the duration or parameters.
Play the video to estimate the time for adding effects. Effects can be easily dragged and dropped in the timeline. The default length is 5 seconds.
Tips:
– Double click the filters or use the slider bar to adjust the length applied for each video session (3).
– You can view how it looks in the Preview Window (4).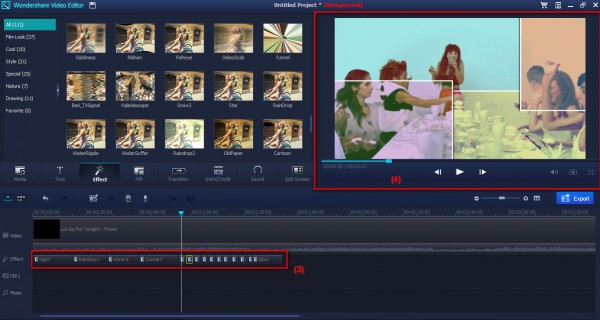 Note: Available parameter options depend on the selected filter. Some of the filters don't have this option.
Step 3: Save your final product
Once you're done applying effects, click Export to save your final product. Wondershare Video Editor provides you a wide range of output options, such as:
Popular video formats: MP4, WMV, AVI, MOV, FLV, MKV, HTML5, 3GP, MPEG-2, MP3.
Supported devices: iPhone, iPad, iPods, Apple TV, PS3, Wii, Xbox 360, Android devices, PSP.
Social networks: Facebook, Youtube, Vimeo.
And, even the ability to burn it to DVD.
Click Export.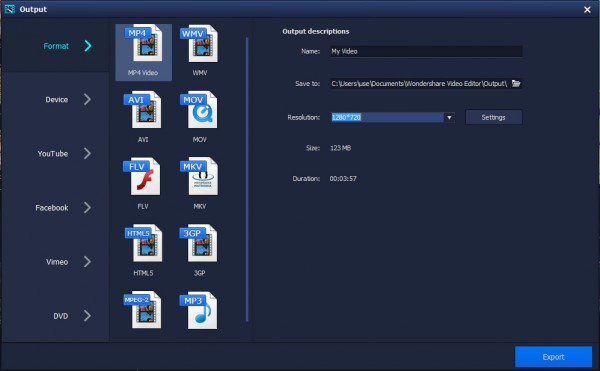 You can watch the quick video tutorial on how to use Wondershare Video Editor below:
Read more: Top 5 Video Converters For Windows
Tips: You can save your favorite effects to the Favorite Folder for quick use next time by right-clicking on the effect > select Add to Favorite. All effects stamped the heart icons can be quickly accessed in Favorite category.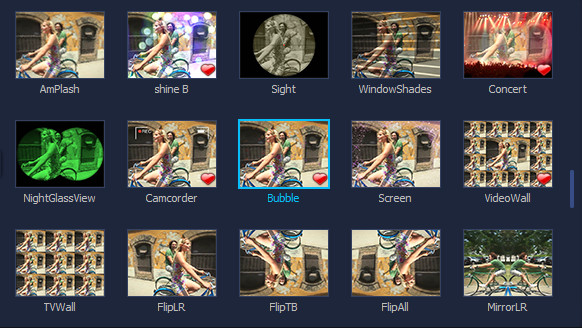 Wondershare Video Editor is available for both Windows and MAC OS at $49.99. Grab it now and enjoy the the most professional editing experience ever.
But But don't get it with full price. Buy here for fraction of price with 30% discount.