Only a week away to Halloween, and check out we've got for you here! This surprising tutorial is just in time to show you how to create a completely professional and scary video clips to freak the hell out of your friends on this Halloween. In the previous tutorial, you've learnt the simplest way to make a Halloween video using Filmora. No joke! This time will be a whole new level!
Let's see how the new Halloween package of Filmora can help you create awesome videos just like pieces you've seen in The Walking Dead, or other scary clips on television!
First of all, make sure you have the latest version of Filmora installed on your computer. If you already own the full version, click on Help button >> Help >> Check for updates …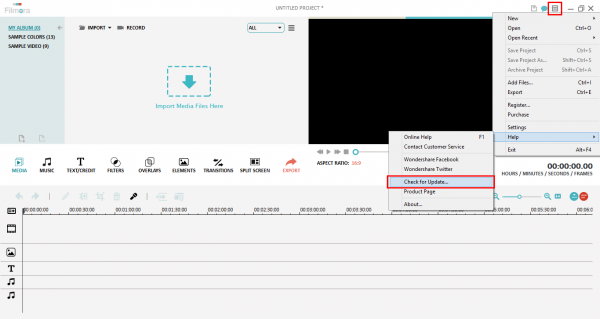 If you don't have Filmora, you can download it from below buttons:
Here are 6 steps to create an awesome trick-or-treat video!
Step 1: Import your videos
Run the program >> Choose Full Feature Mode
Click Import button (1) to open your video file. Alternatively, you can click (2).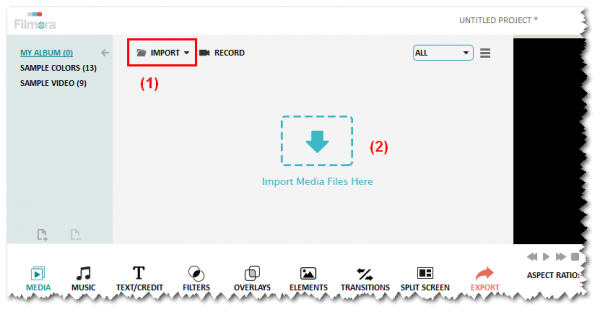 >> Download Free Halloween sound effects and import to your Halloween clip for more professional.
Step 2: Trim your video in timeline
Click and drag your video to Filmora timeline for editing.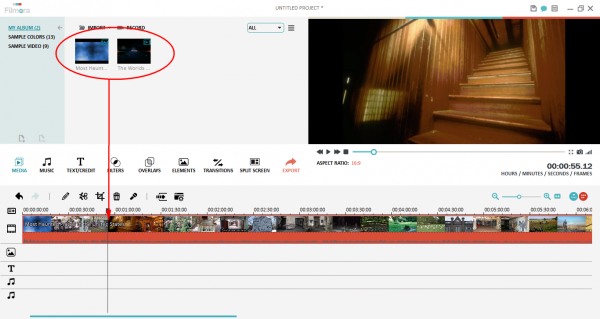 Trim each video clip in timeline so that you can have just the scenes you want by deleting unnecessary parts.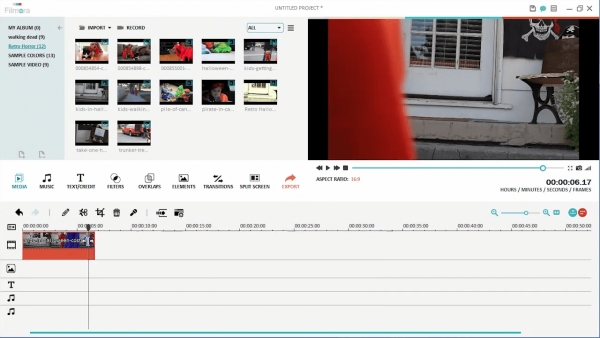 Step 3: Add titles
Click Text (3) >> Choose Halloween effects (4)
You can click to preview a list of built-in introduction text for you video. Click the one you like and drag it to timeline.
Note: Except the first effect, others are shown with their own backgrounds as you can see in the preview.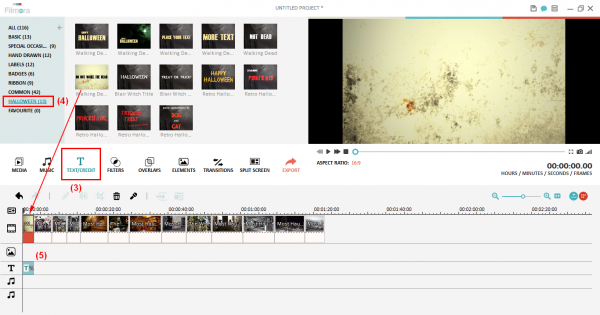 Double click on the effect in video session (6) to adjust its settings (Hue, Contrast, Speed, …) >> OK.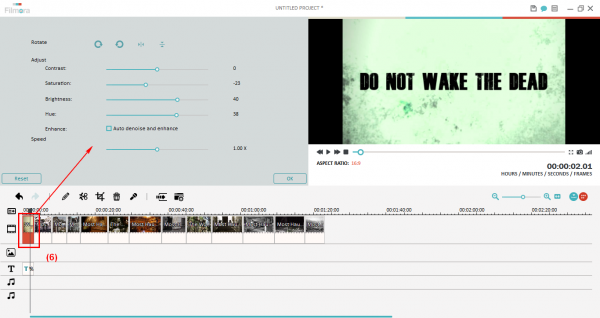 Double click on the effect in below session (7) to edit your text (font, size, color, …) >> OK.
Step 4: Flash and Hold
It would be cool to freeze the characters just like you see in the movies.
Click to choose the part to freeze >> Click Flash and hold button (8). What this does is essentially take a picture of this frame of the video and freeze that image for a few seconds. Trim a little bit off the end of the clip and then re-adjust your title to fit.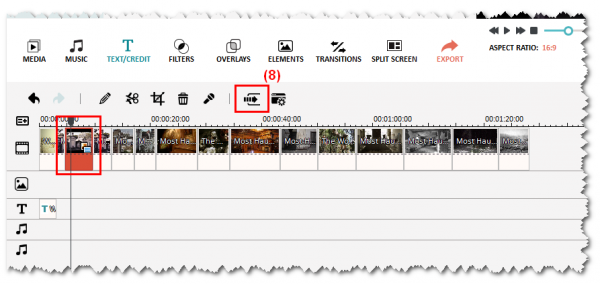 Step 5: Add Overlays & Filters
Click Overlays button (9) >> Pick the effect category you want to add to your video on the left column.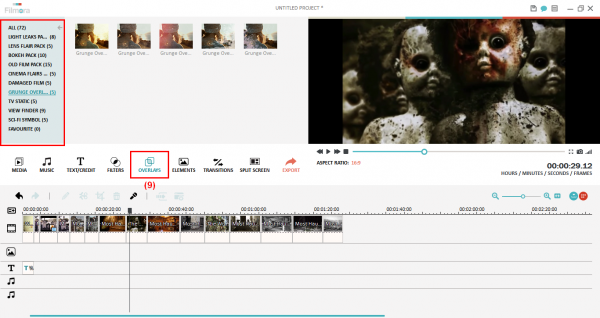 This is how a "Damaged film" looks like:
Old film effect:
Grunge overlays:

Once you choose the one(s) you like, drag it down below the video in timeline and edit it (them) to fit the length of each part.
Click Filters (11) >> Halloween category >> Drag the filters you like to timeline and edit them to fit the scenes in the video.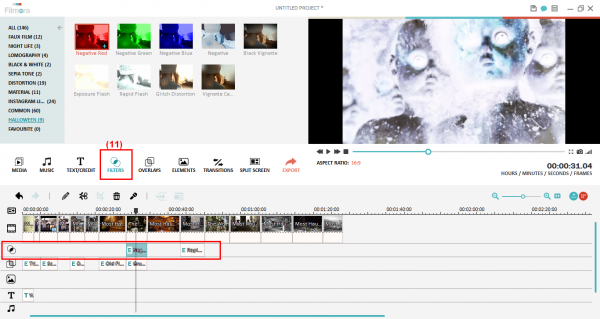 Here are some filter applications for your references!
Negative Red:
Negative:

Exposure flash:

Glitch distortion:
>> How to add special effects to video with Wondershare Filmora
Step 6: Add scary music background
In this Halloween version, Filmora also includes a creepy music library for you to add in your video.
Click Music (10) >> Choose Halloween category >> Preview each music file and drag to timeline where you want it to be played >> OK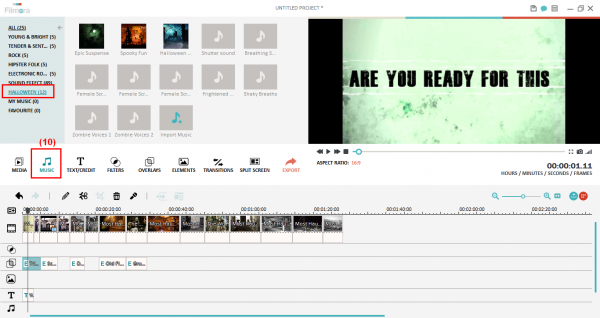 NEXT LEVEL: Create terrible voices for Halloween with Voice Changer Software