As computers become an important part of our lives, any kind of data loss can be stressful and painful for computer users. Hardware failure and virus attacks are the most common factors of data loss; but The EaseUS Data Recovery Wizard Free can retrieve all the data from failed or crashed hard drives and virus affected CDs.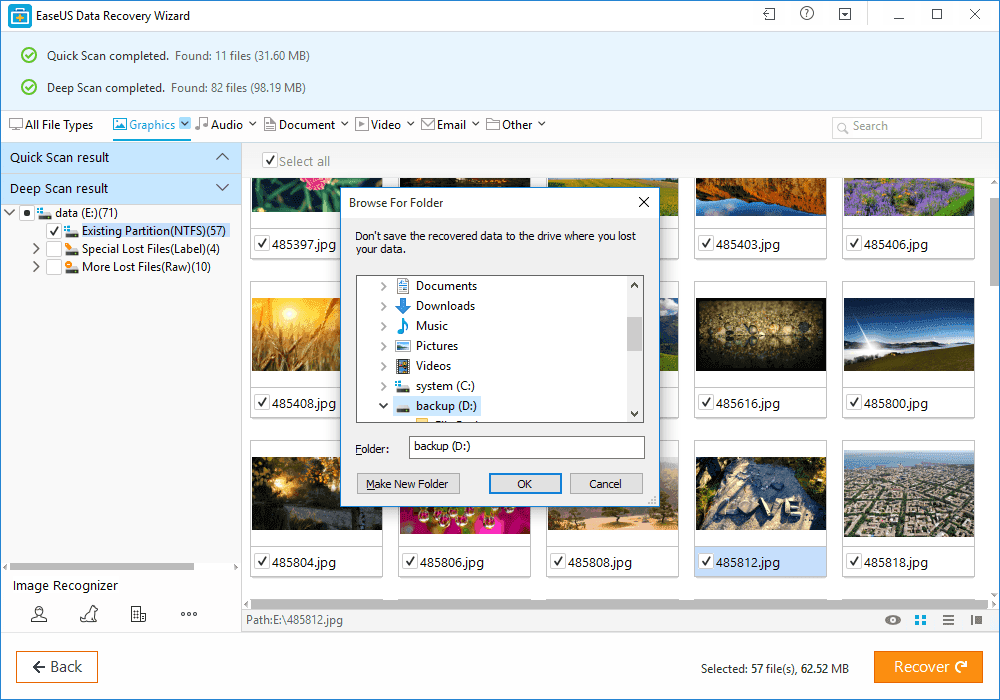 The EaseUS Data Recovery Wizard Free is, without a doubt, the best free data recovery software available today. It is very easy to use and is as or more effective as any other freeware or premium file recovery program out there.
EaseUS uses state-of-the-art data recovery software and process to recover your lost data, and give a success rate as high as 100%. The program is an adroit tool, which traces all the lost data from your hard drive and return it to you without asking many questions.
EaseUS Data Recovery Wizard Free Features
Support for Windows 10, Windows 8, Windows 8.1, Windows 7, Windows Vista, Windows XP, and even Server versions of Windows (2016, 2012, 2008, 2003)
EaseUS Data Recovery Wizard's easy-to-use wizard asks the important questions and does the hard work behind the scenes
Frequent updates to the program and a long history of success keeps EaseUS Data Recovery Wizard at the top of many lists
EaseUS Data Recovery Wizard is available in a portable version making installation unnecessary—a very important advantage
A Quick Scan and an optional "Deep Scan" cover all the technological bases in the search for recoverable files
Supports scanning inside files so that you can, for example, find documents that contain a particular text string
EaseUS Data Recovery Wizard Free can recover files from hard drives, USB drives, memory cards, BD/DVD/CD discs, and even MP3 players, including the iPod, presumably even if they're damaged, corrupted, or recently reformatted
Explaining the two Flexible Scanning Modes      
The Quick Scan feature will search for deleted files and folders using basic algorithm. While the Deep Scan feature will scan sector by sector to ensure better recovery results.
You will also be able to preview files available before making the final recovery attempt. This allows you to choose what you want to recover to avoid unnecessary data recovery.
Devices Supported
Here are a list devices supported by the EaseUS Data Recovery Wizard Free: PC/laptop, Hard Drive, External Disk, SSD, USB Drive, Micro Card, Camcorder, Digital Camera, Music Player, Video Player, RAID, CF/SD Card, Zip Drive, Pen Drive, and Other Storage Devices.
3 Simple Steps to Recover Data Fast
Complete whole recovery process in simple 3 clicks. Fast yet efficient and no prior recovery experience is required.
Step 1: Select a Location to Start
Locate where your data lost and start searching. Also lost partitions are displayed here.
Step 2: Scan Your Computer or Device
Use the "Quick Scan" and "Deep Scan" to retrieve your lost data. Both features have been explained above. You can also pause your recovery progress temporarily and resume later. Also, you are able to export and import scanning results if necessary.
Step 3: Preview and Recover Lost Files
Filter what you want to recover from the scanning results. Preview specific recoverable files before recovery. Recover everything you need.
With this freeware, you can recover up to 2gb of deleted, formatted, inaccessible data data from your computer. You can easily recover all types of lost files, including photos, documents, videos, audio, emails, compressed files and more.
PS: Visit the EaseUS coupon discount to get the best discount of EaseUS' product.