What Causes Data Loss?
As for the common reasons for data loss, they can be divided into four types in general. It is necessary to know about them to help you keep data safe.
Natural causes: natural disasters will result in data loss and damage. For example, sudden power outrage and unexceptional electromagnetic interference can bring about complete data loss or destruction.
Human causes: mis-operations of users lead to data loss and damage as well. Wrong formatting, partitioning and deletion, overlapping and frequent abnormal exit can cause data loss.
Hardware causes: hardware failure of computers, disk scratch, head deformation etc. can also bring about data loss and damage.
Software causes: virus attacks, zero track damage, system failure or crash can cause data loss and damage, too.
How to Recover Lost Data?
As an increasing number of users are plagued by data loss and sometimes the data loss may bring about immeasurable losses, it becomes increasingly vital to know how to recover deleted files in Windows 10.
Therefore, the author is going to introduce one effective tool to help you perform wise data recovery.
Related: How to Recover Lost Data with MiniTool Power Data Recovery
An Introduction to MiniTool Partition Wizard
As for how to recover deleted data in Windows 10, here comes with MiniTool Partition Wizard – the data recovery software for Windows 10.
In fact, MiniTool Partition Wizard is one piece of comprehensive software which serves for both home users and business users. MiniTool Partition Wizard enjoys multiple titles: All-in-one Disk Partition Manager, Effective Data Recovery Program, Powerful Disk Clone Tool and Striking Disk Diagnostic Master.
More advanced editions bring you more advanced functions. For example, Data Recovery function can be available only from MiniTool Partition Wizard Pro Ultimate and more advanced editions.
More information, please refer to MiniTool Partition Wizard Edition Comparison.
Note: Please claim the Minitool discount code before buying to save your money.
Recover Lost Data with MiniTool Partition Wizard
Among these multiple functions of MiniTool Partition Wizard, Data Recovery plays a significant role. This function helps you to recover data from multiple storage devices, including hard disk drive, removable disk drive and drive on This PC.
Detailed operations of how to recover lost data are presented as follows.
Step 1: Please launch MiniTool Partition Wizard and click Data Recovery on the toolbar.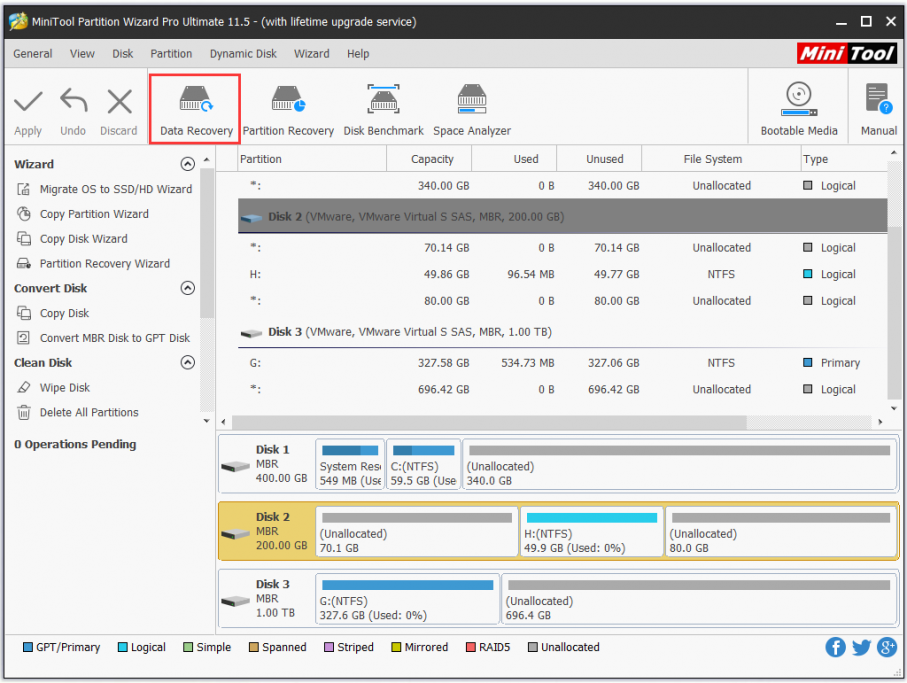 Step 2: In the following page, please select the drive you have lost data and click Scan to start scanning.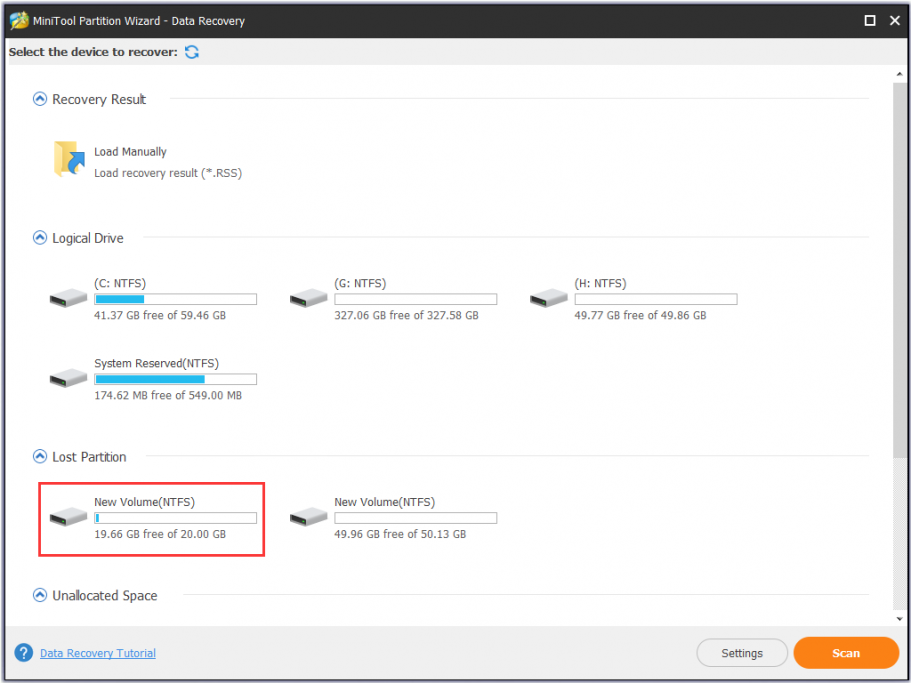 Tips:
1. Load Manually: it allows you to load saved files with RSS format manually.
2. Settings: you can decide whether to show scan results during scan, which file systems to scan and which extra file types to scan.
Step 3: When the scan is finished, all files scanned will be listed under Path. You can check the files you want to recover and click Save to continue.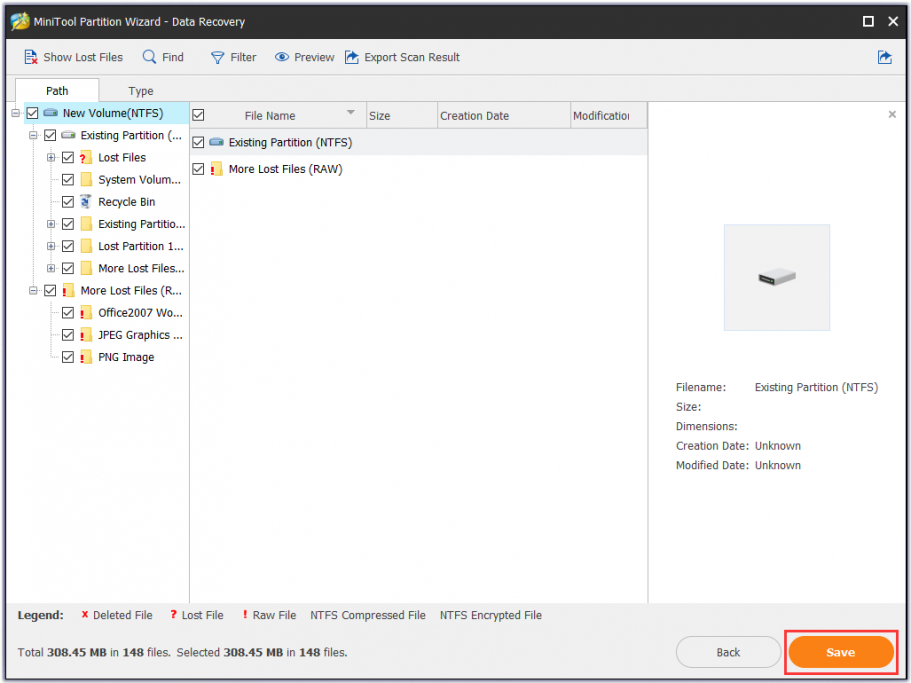 You can notice that there are five features on the top of the scan page. They are of importance before you select files to save.
Show Lost Files: you can look through all lost files scanned.
Find: you can locate a certain file by typing down its file name.
Filter: you can narrow the search range by setting corresponding parameters under the Filter page, such as date and size.
Preview: you can preview the files to make sure whether to recover.
Export Scan Result: if you don't want to perform data recovery operation this time, you can export the scan result so as to avoid the new scan.
Step 4: Please select a directory to save files and click OK to start up data recovery.
Notice: It is recommended not to save these files to the original place in case the lost/deleted data be overwritten.
Step 5: When the data recovery process is finished, you can click OK to finish this task or click Backup Now to back up your data in advance to avoid data loss again.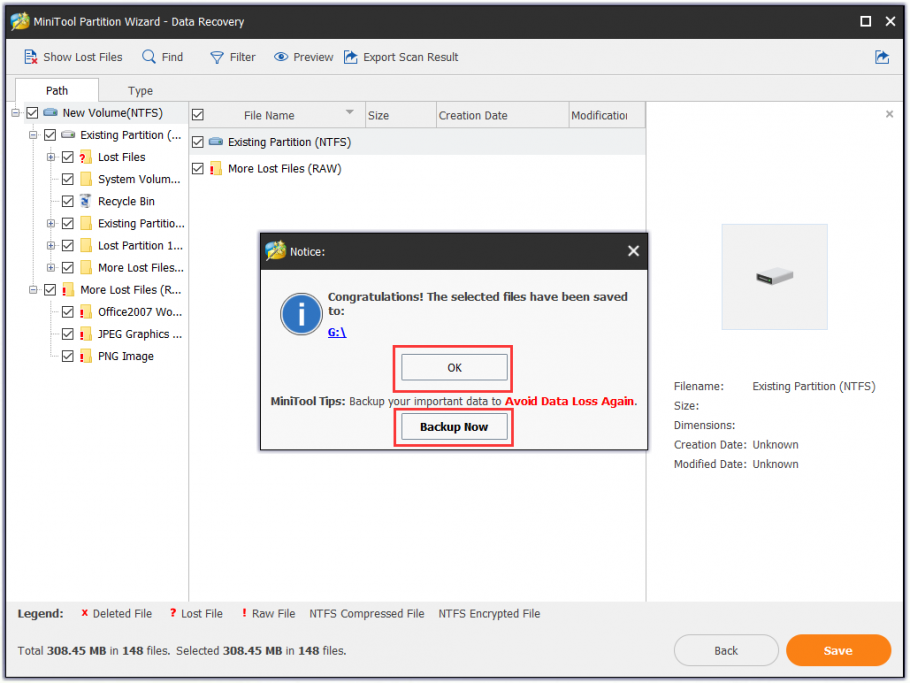 How to Keep Data Safe
It indeed takes you time and energy to recover lost data. Moreover, your data may not be got back under some circumstances. Therefore, it is recommended to adopt some tips to protect your data safe.
Don't save your files and data on the system disk. System crash will lead to data loss.
Back up data and files regularly. It is recommended to use MiniTool ShadowMaker – the professional backup software to perform the automatic data backup.
Prevent misoperations. Misoperations may result in permanent data loss.
Install antivirus program for your computer and remove virus regularly.
Don't directly unplug the removable disk drive. It is required to safely unplug it.
Conclusion
In consideration of the severity and complex consequences of data loss, it is necessary for you to find a piece of trustworthy software to perform data recovery. Compared with other similar products, it is still recommended for you to choose MiniTool Partition Wizard to enjoy better data recovery experience.
>> Check the MiniTool Partition Wizard discount HERE now!