Your Windows system may be the best data storage device for you. The reason being, you can store and access all type of data in it. Moreover, with hard drives of large storage capacity embedded in your system, you can store a large amount of data in it. However, losing your personal or work data is indeed a great loss be it due to accidental deletion of the files, folders, or partitions, formatting of the drives, damage or corruption in the partitions, sabotage, virus attack, or any other reason.
Instead of delaying to recover your lost Windows data that you need urgently,go for an effective data recovery tool for your Windows system. In such a critical situation, you can employ Stellar Data Recovery For Windows software that possesses the ability to recover just about everything that you saved on your system.
powerful software, itis embedded with several advanced features that make it exceedingly beneficial for you.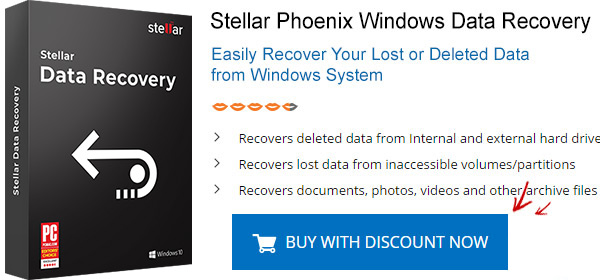 First and foremost, its user-friendly interface makes it simple and easy for you to perform recovery. Secondly, its search for lost data in particular folders minimizes the time required for recovering the data. Next, the option to select from folders, documents, or multimedia files such as photos, audios, and videos for recovery speeds up the scan time and hence the overall recovery process.
Further,its improved scanning engine offers 25% better data recovery results and locating lost partitions with up to 40% better results makes it a tool of one of its kind. Additionally,automatic raw file recovery for richer recovery results, support for recovering more than 300 file types, support for adding new files types for recovery, and Windows 10 support including older versions makes it rank above similar tools from different brands. Further, it provides a preview of the recoverable data before saving.
Key Features
Recovers deleted files and folders
Recovers data from deleted and formatted partitions
Scansfast and efficientlyto recover every bit of data
Provides preview of files after scanning and before saving
Provides preview in three types: File Type, Tree View, and Deleted List
Resume recovery option to recover data afterwards
Supports 300 or more File types and enhanced support to add more file types
Saves at any desired location on the system's or connected drives
Now that you are aware of its features and benefits, let's look at the recovery steps.
How to recover lost Windows data?
The recovery process is very simple with some clicks. Please read full Here.
Step 1: Select the type of data that you wish to recover.
Step 2: Select the location from where you wish to recover data and scan.
Step 3: View the scanning progress that gives a preview of the recoverable files on completion.
Step 4: Select the files you wish to recover and save.
Step 5: Select any desired location on your system to save data
>> How to recover lost Windows data with Stellar Data Recovery
The Bottom Line
By launching Stellar Data Recovery For Windows software, you can efficiently and successfully recover all lost data from your Windows machine in 3-major steps: Select, Scan, and Save. So, the next time you experience data loss, leverage Stellar Data Recovery For Windows for an effective recovery.
Click on above link to get discount of Stellar Windows Data Recovery Or find more Stellar daily promotion here.