What could be more precious than a DIY gift for your lover on upcoming Valentine's Day? Why not, right?!
For this special occasion, we want to show you a romantic way to express your feelings to the love of your life but it's sure still full of awesomeness – creating a very unique Valentine's audio message!
This won't take you long to accomplish. But before we start, make sure you have the "assistant" software AV Voice Changer Software Diamond (VCSD) installed on your PC. If you haven't, click this button to get the latest version 9.5 now.
Let's get started!
Step 1: Set up Voice Changer Diamond
With Voice Changer Software in hand, you can adjust your voice to make it sound stronger, weaker, higher or deeper as you wish with a few touches. After launching the program, turn on Voice Morpher feature of Voice Changer Software Diamond.

The 3 main adjusting element allow you to modify flavor of your own voice timbre – pitch, formant pitch and voice Make-ups effect which are the most basic and important vocal parameters of human voice. To understand how to use this voice morpher, check out our step-by-step tutorial here.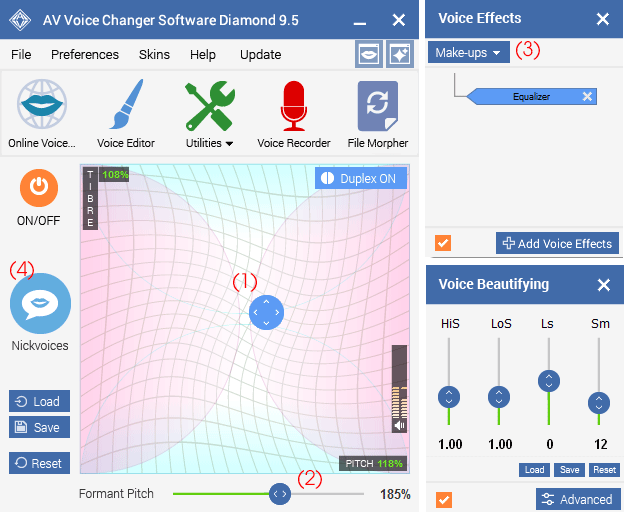 Alternatively, you can take advantage of VCSD's rich library of "nickvoices" for immediate use:
Are you a man? Click Nickvoice >> Male voice to… >> select the preset voice you like (Pic. 3).
Are you a woman? Click Nickvoice >> Female voice to… >> select the target voice you like (Pic. 4).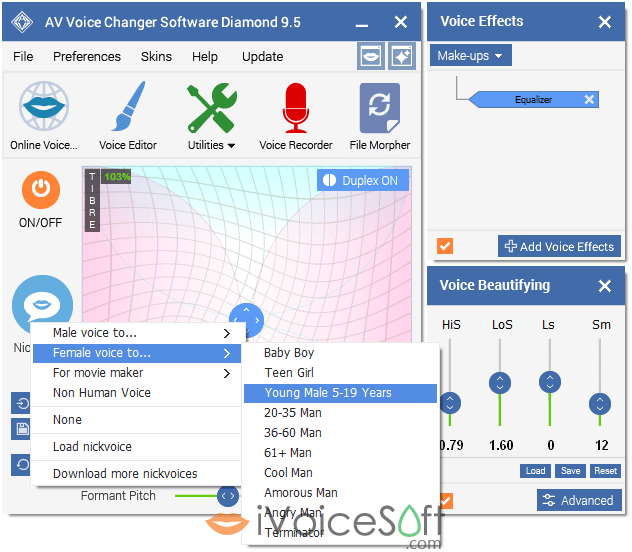 Step 2: Record your romantic message
Tip: I recommend you to write down what you want to record in advance, so that the recording process will be done more smoothly and quickly.
On the left panel, click on Voice Recorder button.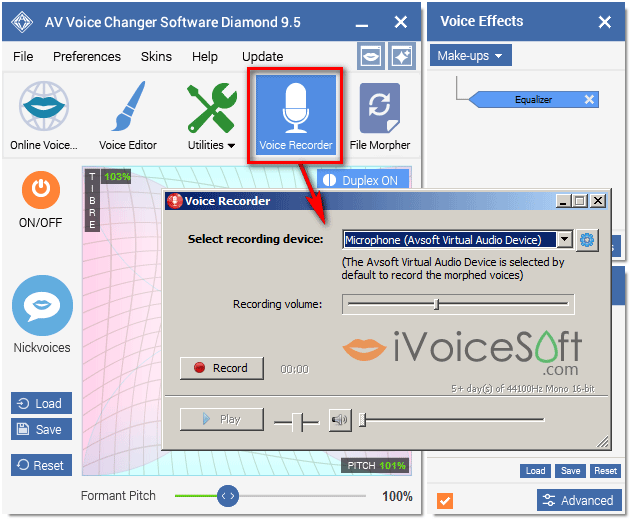 Set Microphone (Avsoft Virtual Audio Device)  as your main audio driver so that all morphing configurations set will be applied automatically to your recording. When you're ready, click Record to start recording.
Once you're done, click Stop >> Save As window will instantly pop up >> Choose location folder to save your recording. In case you still want to add more lines to the recording, close Save As window and click Resume to continue.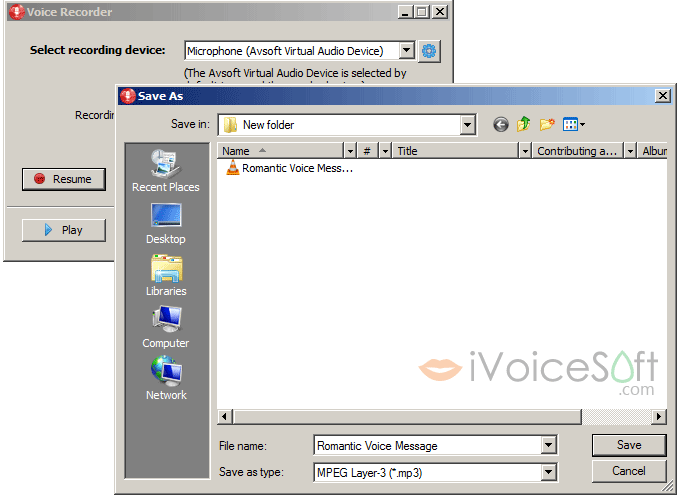 Step 3: Edit your voice message
Return to main panel, click on Voice-Overs Editor button to open editor window. Click on Open File… button (8) to browse for your saved recording.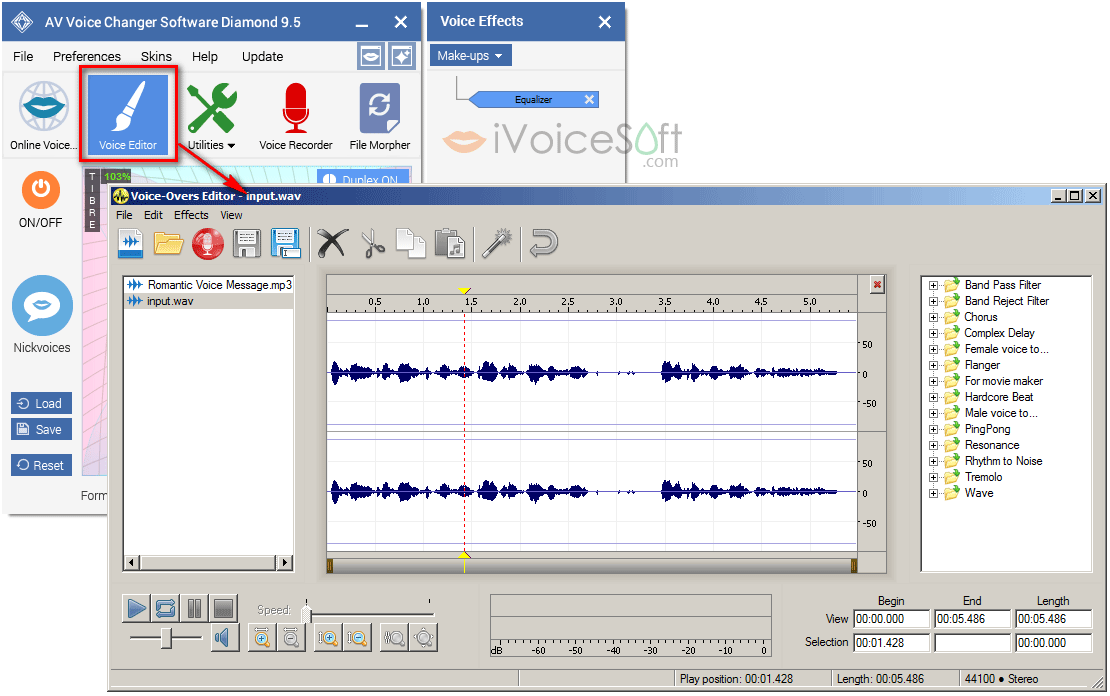 Now your file has been presented in wave form for editing processes. Take a listen to your file again and cut out unwanted parts by dragging mouse on them >> click Delete button.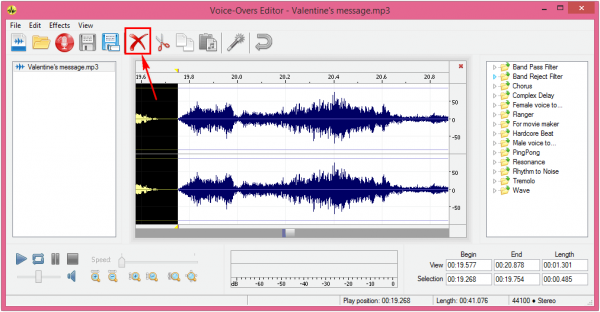 You can find a long list of vivid audio effects to add to your voice message. Click to expand the list and apply as many as you want, until you get satisfying result.
Tip: Drag on specific parts to apply effects in case you don't need effects for the whole recording.
Step 4: Review and save final result
Play to review your morphed voice message again. Once you're satisfied with it, click Save As button (11) >> Select output format type you like (12) >> Save.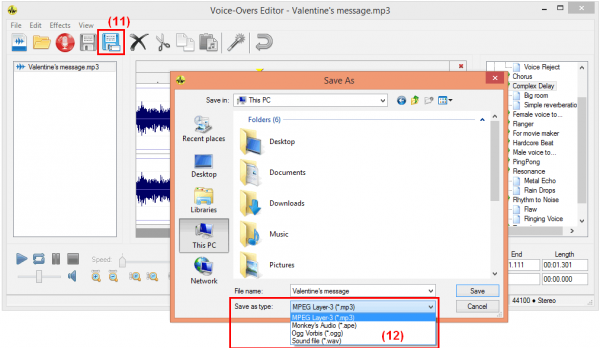 Now the romantic DIY voice message for your Valentine is so ready to be sent. Happy Valentine's Day!
You can buy Voice Changer with 40% discount or free get free download above