In previous reviews, we have tested a few helpful tools that help you recover data for iPhone and Android. No matter how much data you have on these devices, the most important information and files are usually saved on your personal PC. And that's why today's article will recommend you one of the most reliable backup software program for PC – AOMEI Backupper Professional.
Editor's rating: 

About the program
AOMEI Backupper Professional is a reliable backup software utility that allows users to prevent permanent data loss when the operating system experiences unexpected issues. This Professional edition supports system/disk/files/partition backup, restore and clone, as well as schedule backup, merge images, dynamic volumes backup, UEFI boot and GPT disk backup.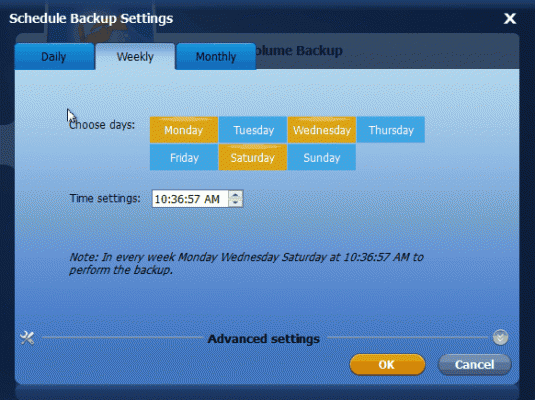 System requirements
Minimum Hardware requirements:
500 MHz x86 or compatible CPU
256MB RAM memory
Mouse or other pointing device (recommended)
In addition, AOMEI Backupper supports creating bootable rescue media so you may need CD-RW/DVD-RW drive for bootable media creation.
Contains different backup modes
Users may create a full, incremental or differential backup from this location, restore a backup, delete it, check its integrity, edit containing files and folders, explore images without decompiling them, as well as schedule backups. Besides the ability to back up files to a local or network location, this program can take care of the entire operating system, hard disk, or partitions separately. All files selected for backup are compiled in images supported only by AOMEI: AFI (file mode) and ADI format (partition, system and disk mode).
Compatible with all Windows operating systems
AOMEI is compatible with all Windows operating systems, including XP and the newest version of Windows 10. In addition, it can also work with common file systems such as NTFS, FAT (32 and 16) and EXT (2 and 3). AOMEI Backupper Professional is compatible with most hard drives, for examples, IDE, SATA, SCSI, virtual drives and USB-connected drives. Therefore, it should work with whatever configuration of Windows PC you own.
One of the good things about this program is its ability to back up to network-connected devices.
Perform any types of backup
AOMEI Backupper can perform almost any type of backup. It restores single backup jobs or the entire system. You can also restore selected files from a disk or partition image without having to restore the entire image file. It can even merge different versions of backup files into one complete and up-to-date file. This backup software can split images if you need to fit a large file onto more than one partition or storage device.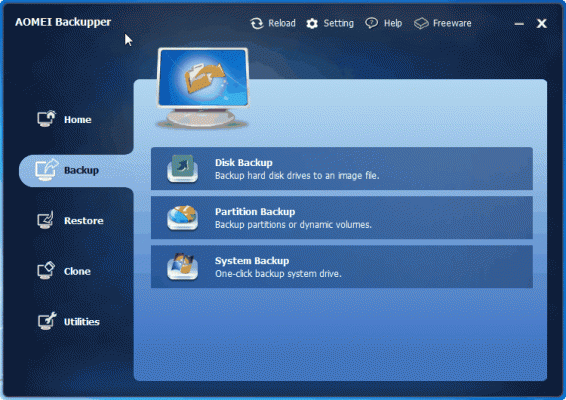 Includes useful tools and utilities
Besides the mail backup feature, this software program also provides users extra tools and utilities for convenient use, including:
Create Bootable Rescue Media
Merge Backup Images
Check and Explore Images
Encrypt and Compress Images
Comment and Edit Backups
Split and Delete Backups
Export/Import Tasks and Logs Management
Email Notifications and VSS
Conclusion
AOMEI Backupper Professional works with many PC operating systems, and it also includes a thorough guide to help less experienced users. Plus, it is wrapped in an intuitive and easy-to-use interface. Overall, this tool does its job well and is able to restore, clone, and backup your data with a fast and reliable recovery system. It also allows users to choose what, how or when to backup their files easily.
However, for a Professional edition, it lacks of advanced configuration options. For example, you can schedule scans, but the program doesn't support filters for quick search (like date, size, types, etc.), you need to name and search the files by the names. And one more thing, for the features it provides, its price $49 might not be convincing enough for most users.

Find more solutions for your backup plan, include promotion at the AOMEI discount page.
Checkout this video to see how it work: How to Schedule Backup Partition for Windows System?
>> May you like the vrBackupper, backup and restore all data in Oculus Rift installation directory and more