What is WannaCry Ransomware?
Ransomware attacks cause a big influence all over the world in these days. Ransomware is a type of malicious software that carries out the cryptoviral extortion attack from cryptovirology that blocks access to data until a ransom is paid and display a message requesting payment to unlock it.
WannaCry is the name of ransomware this time. When the machine infected by WannaCry Ransomware, your important files will be encrypted, ended with ".WNCRY" of the file name, and it will pop up a dialog, reminds you their destination and demands for Bitcoins. See below:
How to prevent WannaCry?
Since there has no effective way to decrypt the encryption from Ransomware so far. You should know how to prevent Ransomware at least. Here, I list top five effective ways to protect against Ransomware.
Cutting off internet access before booting device
Open built-in firmware (Windows 7/8/10)
Upgrade operating system to Windows 10 and always install updates and patches
Using antivirus programs
Backup files scheduled
It's pity there is no effective way to decrypt the encryption from WannaCry Ramsomware. Once your computer has been infiltrated, you can only reinstall operation system to release from ransomware, but the encrypted files cannot be recovered easily. However, if you have backed up the files before, you can restore the data easier.
AOMEI Backupper Free (Especially for WannaCry Ransomware) is a free backup tool which can help you protect against Ransomware more. We recommend you to use it to backup important files to an external hard drive before virus attack as soon as possible.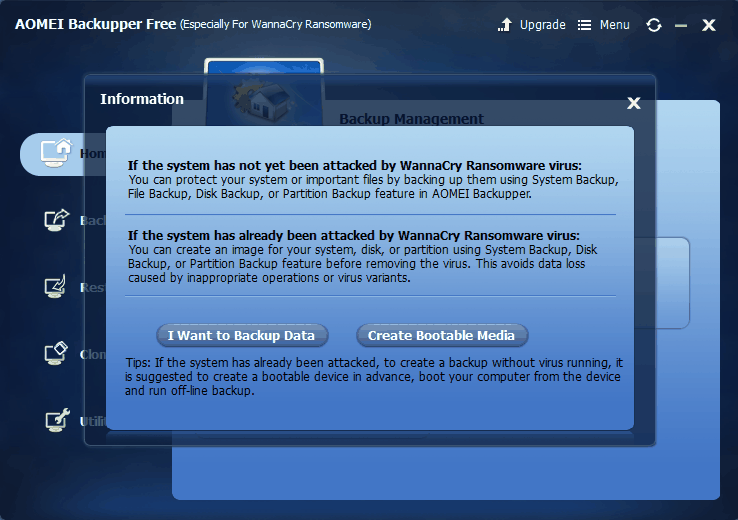 For infected PC, to backup system without virus running, you can first create a bootable media and then perform an offline backup. You can follow the steps below to create a system image backup.
Download, install and run AOMEI Backupper. Connect a writable USB flash drive or DVD/CD to computer.
In the upfront window, select Create Bootable Media and follow the wizard to create a bootable disc.
Boot computer from the boot disc
Click Backup and then choose System Backup. If you only want to backup encrypted files, you can choose File Backup.
Set options done. Click Start Backup to start the task.
If you ever see an alert like "your files have been encrypted", don't panic and do as mentioned in the article to reduce your data loss to the minimum. In conclusion, having a regular backup plan is the best and the most primitive method to defense against ransomware.
~> If you still need for more detail, please see How to create a system image with below link:
Thanks in advance!