Featuring calculation, pivot tables,graphing tools, and a macro programming language called Visual Basic for Applications, Microsoft Excel is a commonly used spreadsheet in both Microsoft Windows and Mac Operating Systems. This part of MS Office helps users in preparing organized worksheets thus making your work count. However, there have been several instances where both XLS and XLSX Excel files become damaged or corrupt, therefore, making them inaccessible.
This makes it quite difficult for you to keep your work going. To address such issues in MS Excel files, you can leverage Stellar Phoenix Excel Repair software which can easily fix all Excel file errors regardless of the severity of damage. Let's look at what makes it an outstanding software.
Big chance: Buy Stellar Phoenix Excel Repair with discount below:
Key Features
The following are the beneficial features of Stellar Phoenix Excel Repair:
Recovers tables, cell comments, charts, chart sheets, images, formulas, etc.
Restores all objects from corrupt files to a new empty file
Repairs one or more MS Excel spreadsheets
Preserves spreadsheets properties and formatting of cells
Fixes all errors in the MS Excel XLS and XLSX files
Supports Microsoft Excel: 2016, 2013, 2010, 2007, 2003 & 2000 versions
Compatible with Windows 10, 8, 7, Vista, XP & NT and Mac OS X 10.5 and above
How to Successfully Run and Repair Corrupt Excel Files?
The following are the process steps to repair corrupt or damaged Excel files on Mac:
Step 1: Download, install, register, and launch the software on your Mac that has Pentium Class processor, minimum 256MB RAM, and 50MB of free hard drive space.
Step 2: On launch, go to Excel Repair Mac section to display its main interface. Click the Select File button to select an XLSX file for repair or click Select Folder button to select multiple XLSX files. Click Find File(s)button if you do not know the location of Excel files. Next, click the Repair button to begin repairing the damaged files.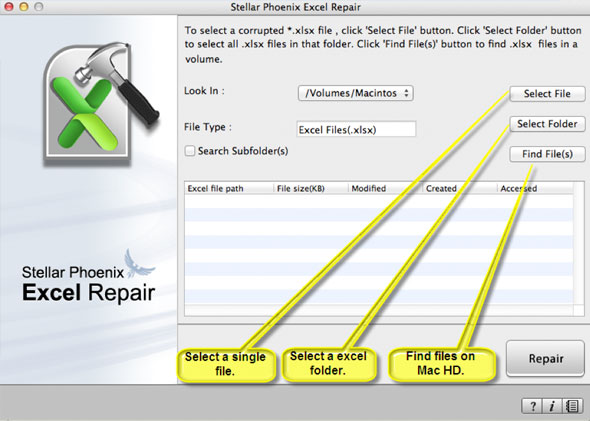 Note – The Excel Repair software will display all the selected XLSX files in the left pane of the interface.
In the interface where all the selected files are displayed in the left pane, check a file to get its preview in the right pane of the interface.
Step 3: Now, select all the desired XLSX files from the list displayed in the left pane of the interface and click on the Save button to save the repaired files to the default location or any other location on the system.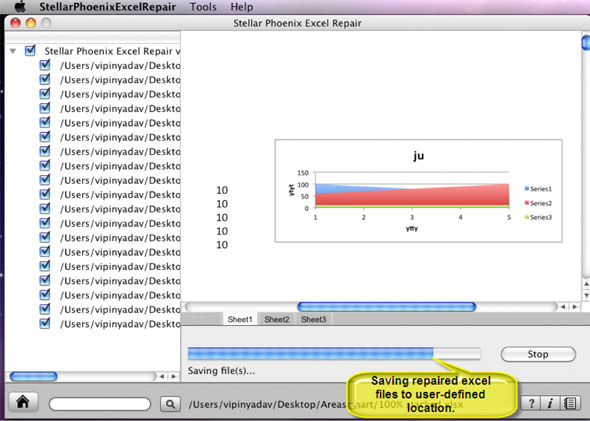 With this, the software successfully repairs the Excel spreadsheets on Mac. The process steps of running the software are almost the same for Windows. Nonetheless, you should close all the Excel files before you run the software. Plus, you should install Analysis ToolPak add-in if engineering formulas are present on your Mac.
Conclusion
Now that you are familiar with the working of Stellar Phoenix Excel Repair software, you can use it anytime to repair your damaged or corrupt Excel XLS and XLSX files. Moreover, with wide support and compatibility for both Windows and Mac along with its easy-to-use GUI,repairing your damaged Excel files becomes seamless.
>> NEXT: How to Recover Damaged or Corrupt Video Files on a Windows System