There are instances when you need to have a blank option displayed by default in a data validation cell in Excel, like the example shown in the screenshot below. However, usually, blank options are not readily available in data validation. In this guide, we'll explain how to add a blank choice as the first option in a data validation list in Excel.

Adding a Blank Option to the Data Validation List's Beginning

Follow these four steps to accomplish this:
1. Insert a Blank Cell: Begin by inserting a blank cell above the data list you intend to use for creating the data validation list.
2. Apply Data Validation: Select the cell or cells where you want to apply the data validation list. Next, navigate to the "Data" tab, click on "Data Validation," and then choose "Data Validation" from the dropdown menu.

3. Configure Data Validation Settings: In the "Data Validation" dialog box, select "List" from the "Allow" dropdown menu. Then, choose the list that includes the blank cell you want to include in the data validation list. Make sure to uncheck the "Ignore blank" option to ensure the blank cell is considered.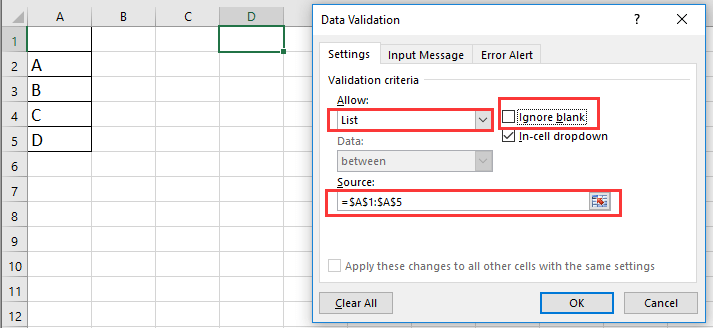 4. Confirm Settings: Click "OK" to apply the data validation settings. You will now notice that the first option in the data validation dropdown is a blank entry.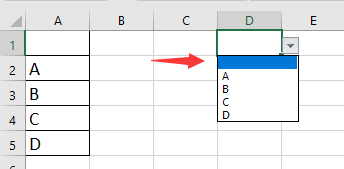 Enhance Your Office Productivity with Kutools for Excel

Are you looking to optimize your Excel tasks? Unleash the power of Kutools for Excel to transform your hours of work into minutes! This exceptional tool streamlines complex tasks, allowing you to navigate through your data effortlessly. Elevate your Excel experience with lightning-fast speed!
Why Choose Kutools for Excel:
🛠️ Over 300 Advanced Features: With Kutools, you gain access to a vast collection of more than 300 advanced features that simplify your work across over 1500 scenarios.
📈 Superior Data Handling: Whether it's merging cells, eliminating duplicates, or performing intricate data conversions, Kutools makes these tasks a breeze.
⏱️ Efficient Batch Operations: Why invest extra effort when you can work smart? Kutools empowers you to seamlessly import, export, combine, and manipulate data in bulk.
📊 Customizable Charts and Reports: Explore a wide range of additional charts and generate insightful reports that narrate a compelling story.
🗄️ Robust Navigation Pane: Gain an edge with the powerful Column Manager, Worksheet Manager, and Custom Favorites features.
📝 Seven Types of Dropdown Lists: Simplify data entry with various types of drop-down lists tailored to your needs.
🎓 User-Friendly Interface: Intuitive for beginners and a dynamic toolset for experts.
👉 Get 30% OFF Kutools for Excel with our Exclusive Coupon Code.