Not being able to access the video files that you did not download from the web, but created them through your smartphone with your in-built camera or your digital camera such as a Web-Cam, DSLR, or a Drone Camera is indeed a great loss. Especially, if they capture personal moments such as your child's birthday bash, college farewell, trips, alumnus, vacations, sky-diving, boating, fishing, your marriage ceremony, to name a few. The reason being, they are not available on the web except in your phone or camera where you created them or backed them up on your internal or external hard drive, flash drives, USBs, etc. However, instead of despairing over the loss of your personal and private videos, you should opt for Stellar Phoenix Video Repair tool.
~> Other post: How to Repair and Recover Damaged Video Files on a Macintosh
Powerful and comprehensive, it can repair and recover all your damaged video files from data storage media devices such as flash drives, memory cards, both internal and external hard drives, etc. It can also recover those video files that have a number of delicate file components that get damaged or corrupt with the passage of time. For instance, MOV, WMV, M4V, ASF, MP4, 3GP, 3G2, F4V, etc. that get damaged due to reasons such as compression issues, alterations made in the file formats, read/write errors, virus attack, etc.
To repair the videos on a Windows system, all that you have to do to use this video file repair tool. It is available for download on Windows 10, 8.1, 8, 7, or XP system. Also, the processor must be Pentium Class, the RAM must be a minimum of 2GB, and 50 MB of free space on the hard drive.
Next, install Stellar Phoenix Video Repair and run it. Further, go to the Video Repair Windows section and click on Repair Video tab as shown in the image below: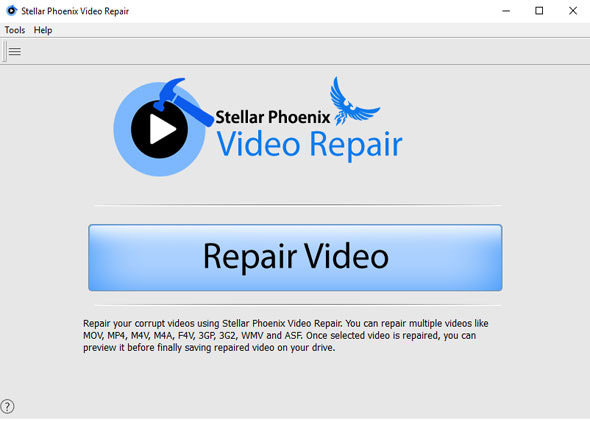 Next, use the Add button to add the damaged video files. Select the video files you wish to repair and click on the Repair tab as is displayed in the image below: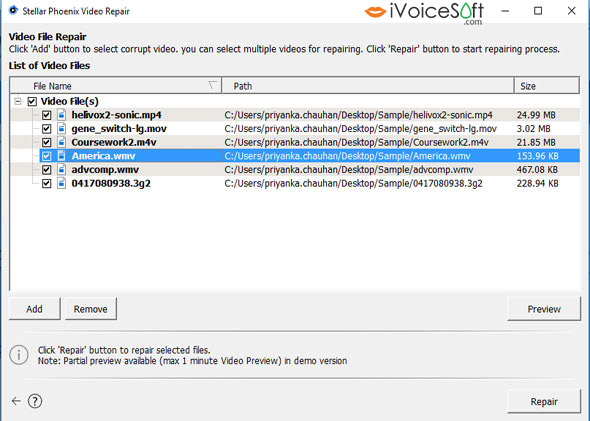 Note – Here, you have the option to select any file by clicking on it and then click on Preview button to check the damaged video before the repair process as shown in the below image: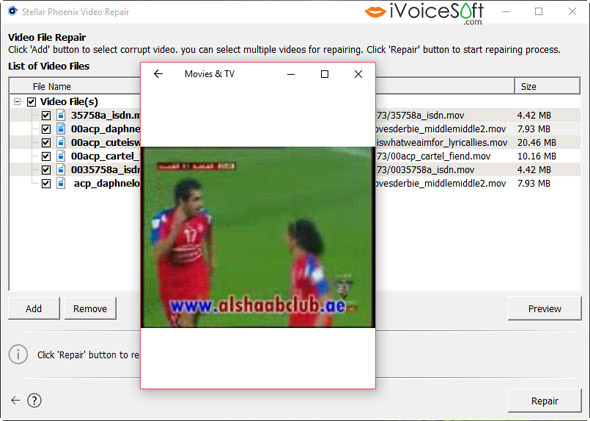 The error in the video files are now fixed. You can select the files one-by-one to get a preview of the restored videos as is displayed in the image below: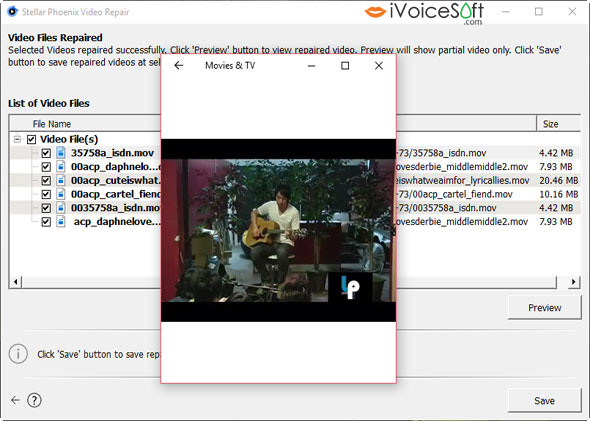 Next, select the video files and click on the Save tab to save them at any desired location. You can then view the saved images by clicking on View Saved Files option as is shown in the image displayed below. The video repair is now complete.
Conclusion
With Stellar Phoenix Video Repair software for Windows, you can now easily and successfully repair your priceless videos. Supporting several file formats such as MOV, WMV, M4V, ASF, MP4, 3GP, 3G2, F4V, etc. and with an easy-to-understand interface that would especially benefit novice users, this software is the best bet.
~> Fine more Stellar coupon code HERE