Stellar Merge PST, A unique software which merges two or more PST files into a single new PST file. Doesn't allow format-deformation and maintains integrity and hierarchy of original PST. Stellar Merge PST version promotes selective data compilation, wherein users have option to select Outlook emails and contacts for merger with other PST file/s. Provides multiple saving options for new & existing PSTs, Outlook profile, Office 365 & Exchange server.
Stellar Merge PST – Easy To Use and Fast To Convert Stellar Merge PST Version 6.0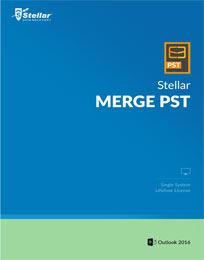 Joins and merges one or multiple Outlook PST
Novice can operate efficiently with easy to use GUI
Maintains data integrity and ensures no-duplication
Merges uncrypted and password-protected PST files
Validate data with preview option
The most lucrative option of Stellar Merge PST v6.0 is it's easy to use user interface. Software offers a comprehensive and easy to operate graphical user interface to select or find multiple PST files and save into a single PST file. PST merge process involves selecting right PST files and merging matching folders from available PST files into a new or existing file. Combines all specific outlook items like mails, contacts, calendars and journals, tasks and more. Option to join only Emails and Contacts, and leave Calendar and other entries is also available.
Check the hierarchy of PST file with available preview of merged PST. Tree structure format is similar to Outlook format and enables complete data verification from user end. Select large or small Outlook data files as size is immaterial for merger procedure. During the merger procedure, files with same emails are also merged, however, this software rejects repetition and save same email content only once thus demoting email-duplication in merged Outlook data. By default, software checks through PST files on the basis of three different options i.e. through Text, Subject and sender email options and disables duplicate content. Users have option to enable this disabled duplicate content in case required. Deleted folders and junk folder-content of original PST files is not carried forward to the merged PST file when users click on Exclude option available against Deleted folder and Junk folder.
>> How to Converts Outlook OST file to PST file
Password-protected PST files are merged with other PST files. Users have option to fill in the password and merge content. Quick merging technology merges two or more files at a considerably high speed. Save data in current file or a completely new PST file.
Save merged files in different formats, for example, user can save in Outlook profile. Alternately, you can save in Office 365 or Exchange server or new or existing PST file for instant import to Outlook Email client.
Software generates and provides an all-inclusive Log-Report with details of PST merge process, number of components replaced. Option to save Log Report to analyze it sometime later. Supports most versions including Outlook 2016, 2013, 2010, and 2007. Is compatible with Windows 10, Windows 8.1, Windows 8, and Windows 7, and thus can be installed on any of these versions of the Windows operating system.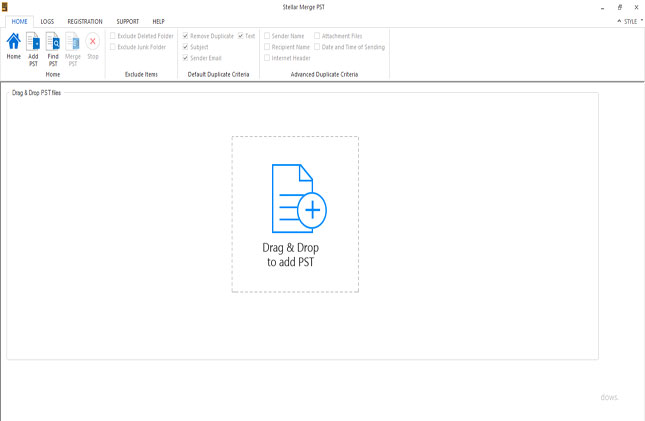 To Summarize
Option to drag and drop PST files or find misplaced PST files ensure complete merger of two or more PST files without delay. Security is never a challenge with easy to use and fast to convert Stellar Merge PST v6.0 software.
PS: get the discount of Stellar Merge PST from Stellar discount coupon page