What do you do with information filled in a PDF form after collecting them? Well, the amount of "copy-paste" work would definitely endless. Today, we will guide you to extract such data to excel files so that they'll be far easier for you to sort, arrange and edit in any way you want to. This feature is exclusively available in PDFElement Pro  – an intuitive PDF processor of WonderShare. New to this? Spend a moment to read our review for this software tool at this link.
PDFElement 6 STANDARD for Windows & Mac costs $59.95, but you can get the fully-featured program with PDFelement discount at only $41.97
Higher edition, PDFElement 6 PRO: Listed price $99.95 discount to only $69.97
Fully equipped now?! Let's get started!
Run PDFElement and click Open File button on the main window.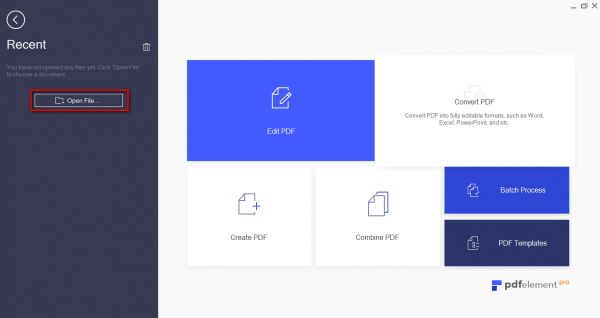 In this example, customer information is what we want to extract from this form. Go to Form tab, click Data Extraction.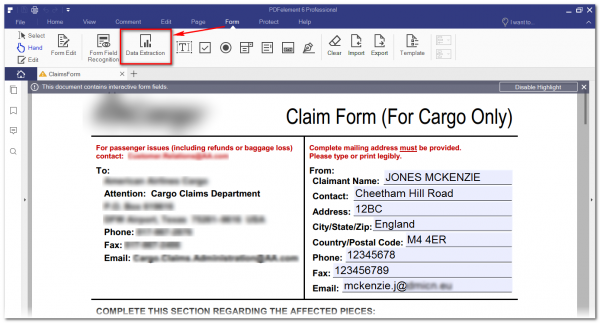 If you receive a notification that OCR needs to be downloaded, click OK to download it. OCR is an advanced plugin in PDFElement allowing you to even modify and convert scanned PDF files.
When asked to extract data from fillable forms or scanned files, you choose the type of file you've opened in the program and click Next.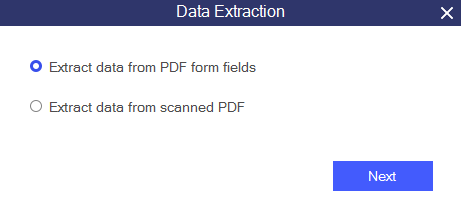 Batch Process window appears, providing you basic information about the excel file you're about to gain. Click Start.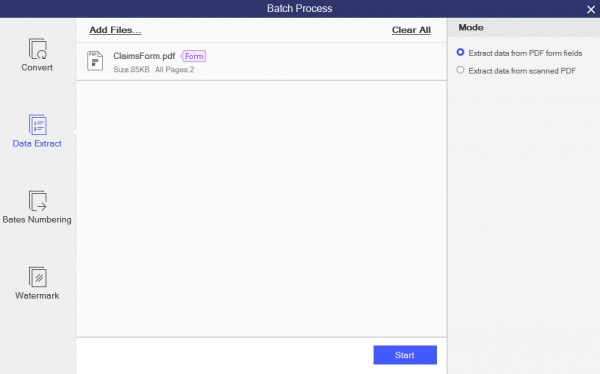 Choose the location for the extracted file. Click OK.
When the process is done, click Finished to open the excel file. Here is what you get from data extraction with PDFElement Pro.
EXTRACT MULTIPLE FILES AT ONCE
If you have many files to extract, no need to repeat the step for each file. All you need to do is click on Batch Process on the main window.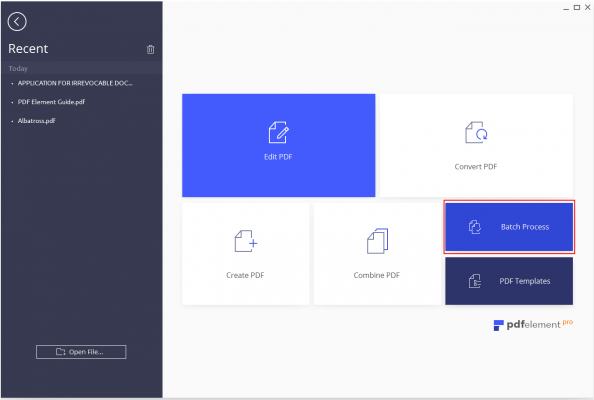 Go to Data Extract tab, add as many files as you want and choose types of files you've been opening > Start.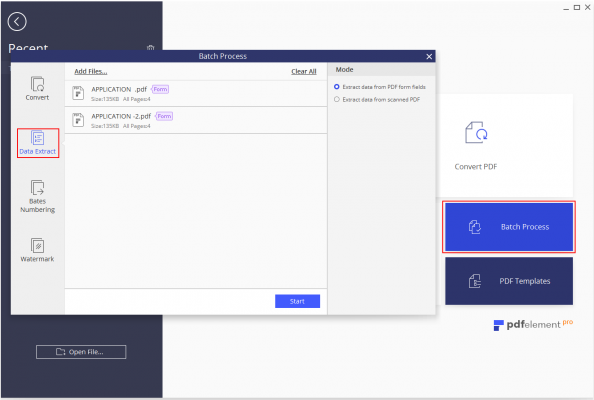 Enjoy!