Having professional-looking forms is an important tactic to present how serious and consistent your business is. However, creating such forms requires you to have an advanced form creator in hand. PDFelement is not only suitable for creating professional forms, but your forms will also be fillable by customers who find them their computers. In this tutorial, we will show you how this cool software is able to create smartly fillable PDF forms in just a few clicks.
You can start a brand new form from scratch by choose New >> Blank >> Open Forms tab and apply form creating modules in this tab.
Alternatively, you can download for free some form templates created by Wondershare at this link.
In this tutorial, we're using a service invoice template downloaded from Wondershare website to guide you the easiest way to customize your form. But first of all, you need to get PDFelement ready on your computer. Get the program at the link below:
Read more tutorial with PDFelement:
PDFElement 6 STANDARD for Windows & Mac costs $59.95, but you can get the fully-featured program with PDFelement discount at only $41.97
Higher edition, PDFElement 6 PRO: Listed price $99.95 discount to only $69.97
Step 1: Import your form template
Run the program by double-clicking on its icon on your desktop.
Click on Open file to browse for the form you've downloaded from above link.
Instruction for MAC OS:
Click Open File at the bottom right >> browse for the file >> Open.
Step 2: Edit interactive fields in the form
Open Forms tab (1) you will see a menu bar including a wide range of modules for creating and modifying forms as below image.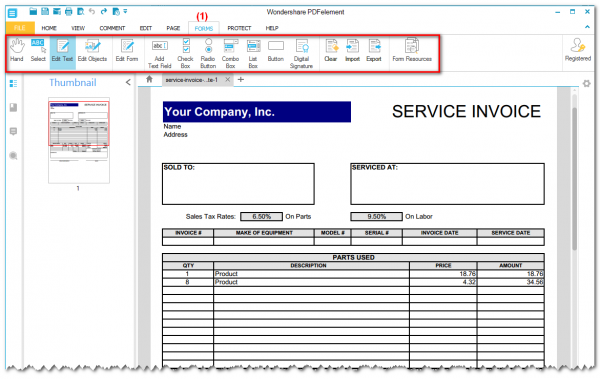 Once you click on a button and hover the mouse, all the interactive fields on this form will appear for you to edit.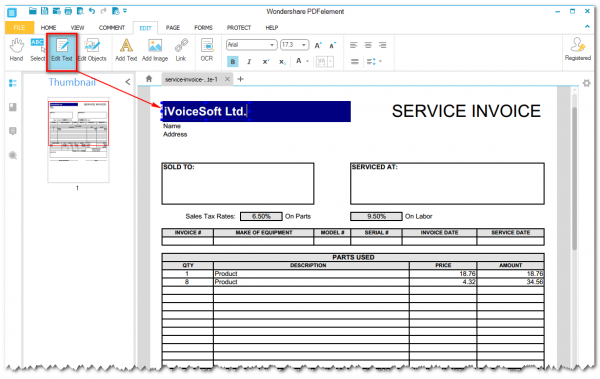 Step 3: Add new fixed text
Click Edit tab >> Add Text button (2) to add new text for your form. After you select the place for the new text, formatting function will be enabled (3) to modify its font, size and alignment.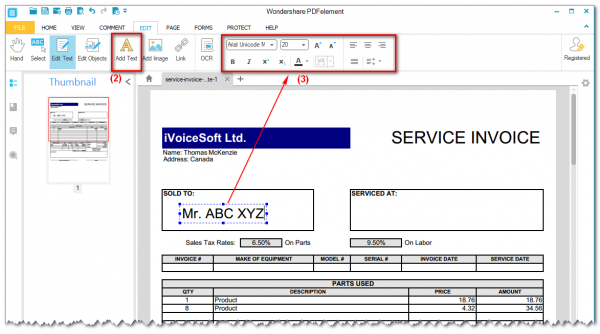 Step 4: Add new interactive text
Click Forms tab >> Add Text Field (4) >> choose the area we want to put it on the form. To format the text in this field, double-click the text field to open Text Field Properties window >> Appearance tab >> Adjust borders, colors and text font as you like >> Close.
To add a ready list for quick selection, you can either choose Check Box, Radio Button, Combo Box or List Box. Here, we're choosing Combo Box as an example.
Select the area you want to place it >> Double-click on the box to open Dropdown Properties window >> Options tab >> Type in options you have available in Item text box and click Add button for each item (7). All items added will appear in Item List below. Also, you can tick to choose Allow user to enter custom text if necessary.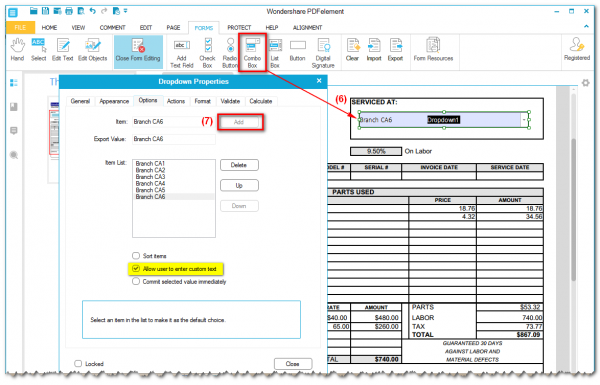 Here is how you form would look like:
* Don't forget to claim the PDFelement coupon or Get more Wondershare coupon codes HERE.
>> Read more: How to remove watermarks from PDF files
Get Giveaway every day!