An introduction to Adobe and Nitro
Adobe, being the trailblazer in PDF technology, positions Acrobat as the foremost and innovative leader in the field. Adobe provides two distinct plans, catering to both individuals and businesses. The Individual plan encompasses Acrobat Pro DC and Standard DC, while the Business plan comprises Acrobat DC for Teams and Enterprises.

Nitro, established in Melbourne, Australia in 2005, has evolved into a globally distributed team that collaborates with over 68% of the Fortune 500 companies. Nitro is recognized as the leading alternative to Adobe Acrobat, and has expanded its platform to provide eSignature, analytics, and document intelligence solutions.
Comparing costs: Adobe's vs Nitro
Adobe offers various pricing options for their Acrobat solutions when comparing pure PDF pricing.
In terms of pricing for Adobe's Acrobat solutions
Standard DC (Document Cloud):

Monthly Plan: $12.99 per month
Annual Plan: $179.88 per year

Pro DC:

Monthly Plan: $14.99 per month
Annual Plan: $155.88 per year

Teams (for collaborative use):

Monthly Plan: $16.99 per month
Annual Plan: $203.88 per year
Please note that pricing details for the Enterprise plan are not publicly available. It's important to mention that all Adobe Acrobat plans offer features such as the ability to gather legally binding eSignatures and monitor responses in real-time.
Adobe currently offers pricing and packaging options as follows:
Basic: Acrobat PDF Pack with e-sign
Essential: Acrobat Pro DC with e-sign
Single User: $14.99/month
Advanced: Acrobat Pro DC with advanced e-sign
Single User: $19.99/month
Essential: Acrobat Pro DC with e-sign for teams
Advanced: Acrobat Pro DC with advanced e-sign for teams
Enterprise: Adobe Sign
Multi-User: Not publicly available
On the cost of Nitro
When comparing Nitro PDF Pro and Acrobat Pro DC, both are priced similarly for a one-time license, with Nitro PDF Pro costing slightly more at $179.99 and Nitro PDF Pro Essentials for Mac being slightly cheaper at $129.99.
However, if we consider the Nitro Productivity Platform (NPP), it offers a significantly lower cost compared to Acrobat Pro DC and Acrobat Standard DC. NPP, priced at $9.99/user/month, includes Nitro Sign Essentials, Analytics, Control Center, and Customer Success.
🔥 Unlock the full power of Nitro PDF Pro at an unbeatable price with 20% OFF. Save big on this top-rated PDF editing software and empower your productivity. Don't miss out on this limited-time offer 🚀 get your discount now!
For customers seeking more advanced options, opting for NPP with Nitro Sign Advanced and Enterprise will result in higher costs compared to purchasing Acrobat Pro, Standard, and Teams separately. The prices for NPP with Nitro Sign Advanced and Enterprise are $19.99 per user/month and $29.99 per user/month, respectively.
Comparison of Features
Functionality-wise, the two products are nearly identical. Listed below are some features shared by both products:
Create PDFs from various document types, images, and files.
Easily create and combine PDFs by dragging and dropping files.
Insert, delete, and organize pages within a PDF.
Combine multiple files and different file types into a single PDF.
Seamless integrations with popular systems like Office 365, SharePoint 365, OneDrive for Business, Dropbox, Box, and Google Drive.
Copy and paste content while preserving formatting.
Batch-create multiple files at once.
Convert PDFs to JPEG, TIFF, or PNG image formats.
Convert web pages into interactive PDFs with clickable links.
Convert CAD files to PDF format.
Extract text and images from PDF documents.
Signature Application and Request:
Request secure and legally binding eSignatures (*Integrated with Nitro Sign).
Streamlined eSigning workflows designed for speed and user-friendly experience.
Ability to apply your own personalized eSignature.
Digitally sign and certify documents electronically.
Track and confirm eSignatures with real-time notifications and analytics.
Convenient mobile signing optimized for smartphones and tablets.
Access eSigning templates for frequently used forms.
Easily add documents and templates that can be shared with your entire team (*Integrated with Nitro Sign).
Effortlessly add electronic signatures to documents using images or imprints.
Create and populate PDF forms:

Support for static XFA forms
Ability to create and modify PDF forms
Effortlessly create, fill, sign, send, and store forms
Enhance PDF security by implementing the following features:
Utilize redaction to permanently remove sensitive information from PDFs.
Generate protected PDF files that restrict copying and editing.
Secure PDFs using Microsoft Rights Management Services (RMS) 2.0.
Support encryption with options for 64-bit, 128-bit, and 256-bit (including R6 support).
Work with digital signatures, including support for chain of trust.
Manage digital signature profiles and certificates.
Create and manage digital IDs.
Perform batch security operations.
Track document versions to keep a record of changes and revisions.
Perform various editing tasks on PDF files, including:
Inserting and modifying text and images.
Editing fonts, layouts, and pages.
Optimizing, reducing file size, and repairing PDF files.
Visually rotating images and pages.
Adding and editing bookmarks, links, headers, numbering, and watermarks.
Adding and editing Bates Numbering for legal documents.
Creating searchable and editable PDFs from scanned documents using OCR (Optical Character Recognition).
Utilizing the Smart Alignment tool for precise positioning.
Copying and pasting content between different applications.
Automatic text reflows and resizing for seamless document editing.
Automatic detection and correction of skewed scanned images.
Engage in reviewing, marking up, and annotating PDFs with the following capabilities:
Highlight, cross out, and underline text with annotations.
Create annotations using sticky notes, text boxes, call-outs, pencil, and shapes.
Attach entire files as annotations to provide additional information.
Sort, manage, filter, and summarize comments for efficient collaboration.
Apply dynamic stamp annotations that automatically populate specific information.
Utilize spell check functionality to ensure accurate content.
Compare PDF files to identify differences and changes.
Conduct advanced searches for precise and contextual results.
Benefit from smart guidelines that align shapes with the Object Tool for proper arrangement of content.
Experience a user-friendly interface designed for easy adoption, including:
Familiar Office-style interface for seamless transition and familiarity.
Familiar macOS-style interface for users accustomed to macOS environment.
Access your documents conveniently from your desktop, browser, or mobile device.
Functionality optimized for touch-enabled devices for intuitive navigation.
Integrated Microsoft Office toolbar and shortcuts for enhanced productivity.
Outlook plugin that allows you to create PDFs directly from email.
Share your PDFs via Apple Mail, Messages, Cloud services, or other compatible apps.
Receive suggestions to reduce printing and promote eco-friendly practices.
Benefit from smart tips and an onboarding product tour to quickly familiarize yourself with the software.
Customize the home tab according to your preferences for easy access to frequently used features.
View Optional Content Group (OCG) layers for advanced document organization.
Utilize a floating toolbar for convenient access to editing tools.
Effortlessly drag and drop documents into multiple windows for efficient multitasking.
Preview PDF files directly within Windows Explorer, Outlook, and web browsers for quick document review.
Streamline IT deployment and management with the following features:
Lightweight deployment options, including thin, server, and desktop configurations.
Support for App-V and managed servers, enabling efficient management of software deployments.
Usage analytics to gain valuable insights into printing activity and document workflows*.
Manage licenses, users, and services conveniently through the online Admin console**.
Compliance with industry standards, such as NIST 800-53, HIPAA, and SOC2 Type 2 certifications, ensuring data security and regulatory compliance.
While Adobe provides high-end commercial tools like 3D rendering, CAD, and video embedding, many businesses discover that the bulk of their users do not need these sophisticated functions. In such situations, supplying the remainder of their staff with a more cheap option like Nitro might result in considerable cost savings.
Various support options are available to cater to your needs.
Adobe provides rich self-support resources on Adobe Acrobat Learn & Support, including options for getting started, tutorials, and user guides. They also offer Enterprise support and the ability to submit a ticket for assistance. In addition, Document Cloud for enterprise users can create a case, start a chat, or manage an existing case from the Admin Console's support tab if they are System or Support administrators.
Nitro, on the other hand, offers a dedicated Customer Success team with extensive product knowledge to guide users throughout their product journey. They provide ongoing training and support to ensure users quickly adapt to the software. Nitro's premium support is available to Business and Enterprise users and includes a dedicated customer support representative. They also offer self-serve options such as a Community Forum, Knowledge Base access, and User Guides for online users.
One notable distinction between the two companies is Nitro's emphasis on customer support. Many organizations have switched from Adobe to Nitro due to the lack of personalized attention and support for enterprise-level accounts. While Adobe may have the advantage of brand recognition, the personal touch provided by Nitro in their business relationships has been highly valued by customers.
Reviews and feedback from customers
Customer feedback about Adobe is as follows:
🖊️ "Adobe Acrobat DC brings joy with its user-friendly interface and intuitive tools. Creating fillable forms is a breeze, saving time and avoiding the hassle of messy handwritten forms. The convenience of adding forms to websites or emails brings a smile, eliminating delays in responses. And the ability to save reports as PDFs for easy editing later is simply delightful—no more rerunning reports or fixing formatting from scratch. I absolutely adore this product!"

🖊️ "I absolutely adore the program's wide range of functions. Without using different apps, editing a document is made simpler by the variety of things you can do in it."
Although Adobe enjoys a significant user base, a prevalent criticism pertains to the software's bloated nature, characterized by numerous excessive features that tend to hinder application performance.
Additionally, the higher cost of Adobe software is a common concern voiced by many users.
Nitro looks to be a well-liked Adobe substitute, says one Capterra reviewer.
🖊️ "I am utterly flabbergasted by how I struggled to navigate through Adobe compared to the seamless experience I have with Nitro. Adobe is simply unfriendly to users, antiquated in my eyes, and I grew weary of its inability to meet my needs. However, Nitro, dear heavens, it grants me the effortless ability to accomplish my tasks at a moment's notice. When I finally print or convert my finished document or manual, everything materializes exactly as I desire it to be."
Usability

Customers have expressed frustration with Adobe's frequent UI changes, particularly regarding the redesigned Acrobat in October 2018. GigaOm reports that while experienced Adobe users may find the Acrobat DC user interface familiar, average MS Office users may encounter difficulties with the workflow, terminology, and structure presented in the new UI. Anecdotally, Nitro customers have conveyed their dissatisfaction with Adobe's UI changes.
A reader on Capterra shared the following comment regarding Adobe:
The user interface lacks user-friendliness in several ways. Instead of being accessible through the usual right-clicking method, options are tucked away in side panes. Making bulk edits to fields such as text fields or forms fields is often not feasible, and simple tasks become unnecessarily complicated due to the excessive number of clicks required, especially when attempting to make changes throughout the entire document.
Concluding Remarks
Nitro PDF Pro is a fantastic substitute. Nitro PDF Pro offer a comprehensive range of features and a reliable PDF experience. This software stands out as a fantastic alternative to Adobe, providing customers with exceptional support at a significantly lower cost.

🔥 Unlock the full power of Nitro PDF Pro at an unbeatable price. Save big on this top-rated PDF editing software and empower your productivity.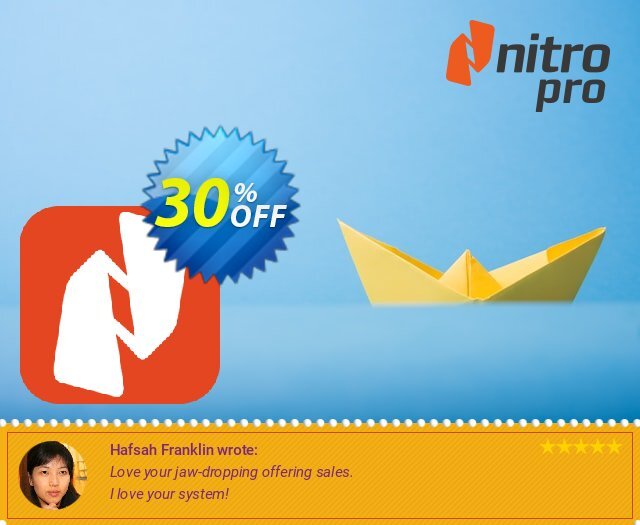 Get Giveaway every day!