The ideal PDF editing program for both students and teachers, PDF Expert will help you get ready for the academic year. Whether you are a first-year student or a seasoned Ph.D. educator, the school year can be daunting.However, with PDF Expert, you can complete your chores more quickly and effectively. Reading, annotating, and organizing course materials is made simple by this program, which streamlines the process of working with various paper and digital documents. Assigning jobs flawlessly, combining documents while they're being processed, and identifying text in scans of varying quality are all duties that PDF Expert is made to handle. With our objective to improve PDF work productivity, students can succeed academically, and teachers can design interesting, personalized learning experiences.
Five typical issues with educational texts have been compiled by us using insightful user data. Learn how PDF Expert successfully resolves these problems, effectively saving you time and effort.
1. Handling Non-Searchable Documents in Diverse Formats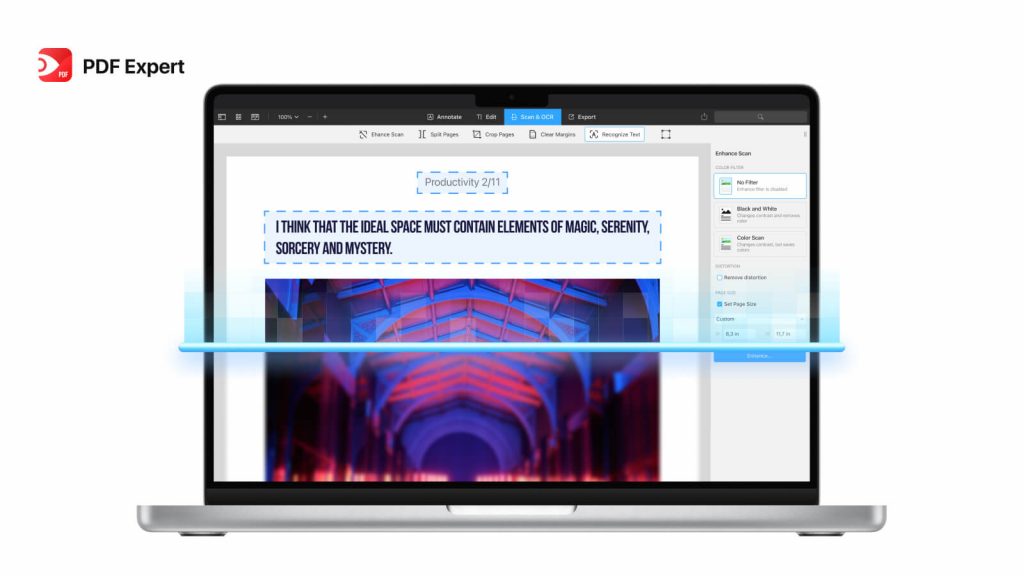 Amid your busy study week, you'll encounter a variety of document formats, from a Word textbook via email to scanned notes shared through messenger, and an online PowerPoint presentation. Managing these diverse formats, especially those lacking recognizable text for searching, copying, and pasting, can be a challenge.
PDF Expert offers a solution. It effortlessly converts text documents, photos, and spreadsheets into polished PDFs. With its robust built-in converter, you can transform Word, Pages, Excel, JPG, and PNG files into PDFs directly on your iPhone or Mac. Additionally, you can merge multiple PDFs into a single, organized document that encompasses all your subject materials.
One of the standout features, described by a student user as "life-changing," is Scan & OCR. This technology leverages optical character recognition to convert scanned documents into PDFs with editable, shareable text. Moreover, it renders the document's text searchable, enabling you to swiftly locate specific information across all open documents within PDF Expert. Say goodbye to the frustration of unreadable scanned documents that hinder your study progress! With PDF Expert, you're equipped to navigate diverse document formats and optimize your workflow seamlessly.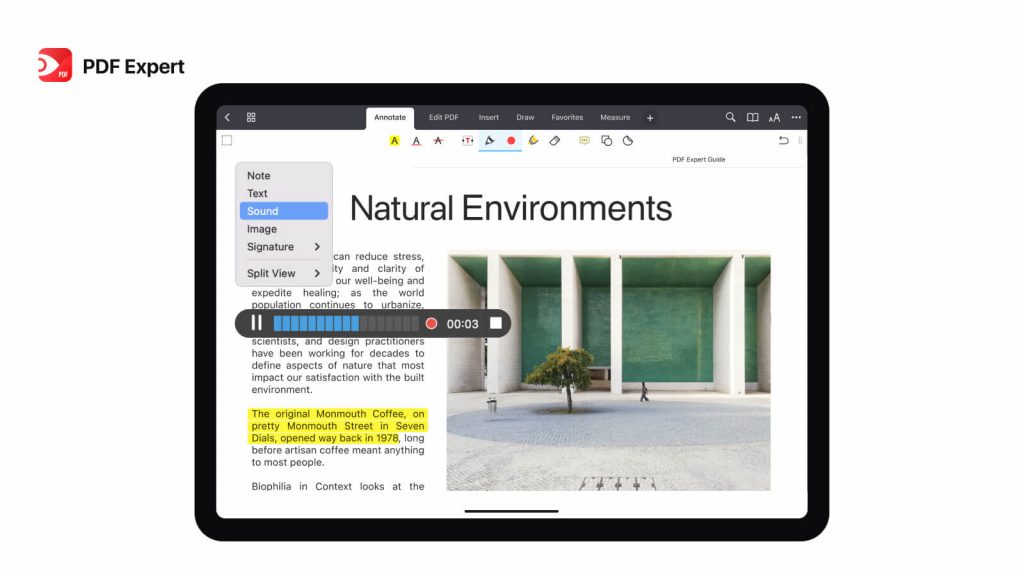 As handling notes and papers can result in misunderstanding and missed modifications, managing collaborative assignments can be a nuisance for both students and teachers. However, PDF Expert provides a solution by making it simple for users to edit PDFs, change text and images, and add highlights and comments. Collaboration on documents is streamlined, and efficiency is raised. To speed up feedback, the technology even allows voice remarks for particular portions. Users can easily share PDFs via email or messaging apps by exporting them to a variety of formats, including text, pictures, Word, PowerPoint, and Excel.
By syncing with cloud storage and guaranteeing that all documents are accessible on many devices, PDF Expert promotes efficient teamwork. Sharing PDFs with friends, family, or coworkers is made simple with this tool. Only PDF Expert on an iPad or Mac, an internet connection, and any cloud storage provider, such as iCloud Drive, Dropbox, or Google Drive, are required to use this function. If both devices are linked to the same cloud storage account, all changes made on an iOS/iPadOS device will automatically sync to the Mac and vice versa.
3. Managing Course Materials Across Various Locations and Devices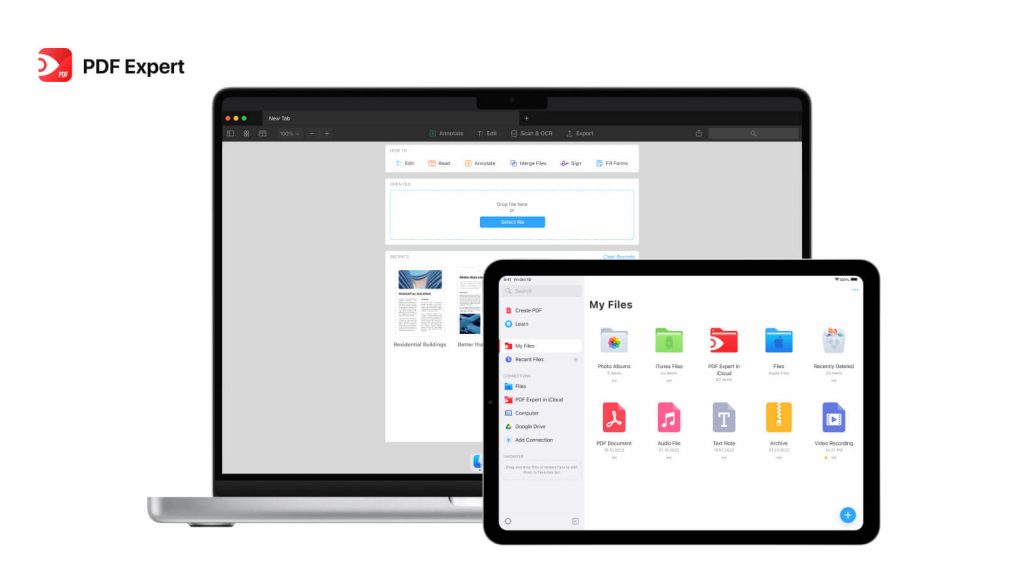 A significant benefit of attending college or university today is the ability to store most of your papers and books on your iPhone or iPad, eliminating the need to carry them physically. PDF Expert offers the functionality to scan and OCR paper books, convert photos and texts into PDFs, ensuring easy access to all your course materials on the go – whether you're reading on a train or annotating in a classroom.
For enhanced organization, PDF Expert allows you to establish separate folders for different topics or courses. Additionally, the Inbox folder serves as an initial document management hub, automatically collecting files downloaded from browsers, emails, or messengers. This way, you can conveniently rename and categorize them at a later time.
4. Streamlining Complex PDF Editing Software
Some PDF editing programs resemble complex starship control panels because they have so many features and buttons. Additionally, their complicated designs make them tough to use.
Contrarily, PDF Expert places a higher priority on user-friendliness and has an easy-to-use interface. A well-known Ph.D. user who specializes in writing behavioral economics articles revealed that PDF Expert's user-friendly layout and fluid scrolling experience were crucial in helping him make the switch to Apple devices.
We continue to adhere to this philosophy since "simplicity defines a good product," as the saying goes. Our unique features, such fluid scrolling and Sepia mode, stand out in particular for students and educators who frequently browse through a large number of books.
5. Affordability Concerns with PDF Apps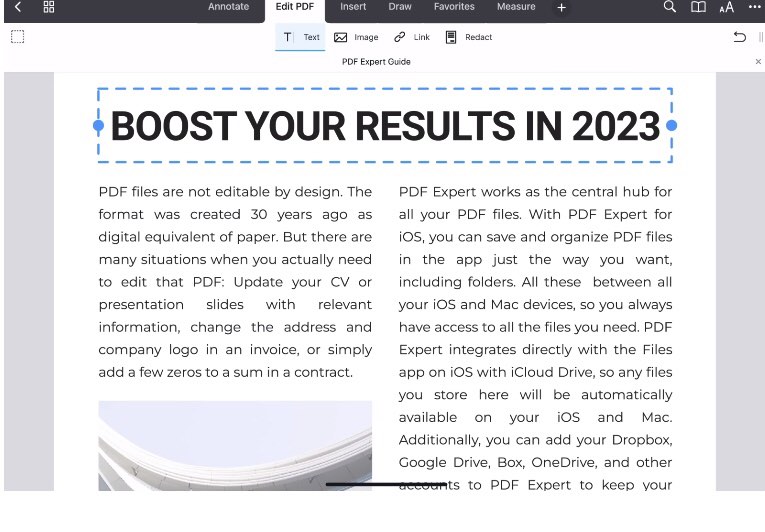 High-quality products often require significant investment in technology and design, which is why many PDF editors tend to be relatively expensive.
However, PDF Expert understands the importance of supporting students and teachers who contribute to learning, inspiration, and success.
To facilitate academic progress and productivity, PDF Expert offers a generous 50% discount to students and teachers.

By opting for an annual plan, users gain access to all premium features, ensuring a successful academic year:
Color-coded annotations and summaries for effective organization and quick content sorting.
On-the-go PDF editing capabilities, including text modification, image updates, and link insertion for professional document creation.
Effortless PDF organization with options to remove, add, rearrange pages, or merge entire documents.
Improved efficiency with searchable scans using OCR technology, enabling text recognition, highlighting, and copying from scanned papers.
Building a digital PDF library by converting various content types into editable PDFs, keeping course materials accessible across all devices.