Macs are one of the most popular systems used all across the globe as users' rely on their security, reliability, and advanced mechanisms. However, as sophisticated as they are, there are tendencies for it to turn sluggish, therefore, impacting its overall performance. Among several reasons, one that is prominent is the presence of junk files on your Mac.
Such a situation calls for a reliable tool that could speed up your Mac and improve its performance. One such software is Stellar SpeedUp Mac, which increases the speed by scanning the hard drive and then removing the undesired files, applications as well as duplicate items from your Mac. With this, the software will restore the speed of your Mac and boost its performance.
~> Other post: Stellar Phoenix Data Recovery for iPhone – Quick tour
Devised to give rocket speed to your Mac, this Mac speed up software is a powerful utility that can automatically identify your Mac volumes. Thereafter, it suggests removing the junk files and apps from the hard drive. Here, in this tool, the Recommended Scan is to remove the junks from the Boot volume while Custom Scan is for removing the junk files from rest of the volumes. Moreover, you should note that the Boot volume gets selected for scanning by default.
The software scans and eliminates the Trashes, Log files, Cache Files, Large Files, Language Files, Duplicate Files, System Junks, Leftovers, Manage Extensions, Universal Binaries and the rest that contribute to making the performance of your Mac sluggish. Also, it uninstalls the following: unused or unwanted Applications, Plugins, and Widgets installed by both, system and you. This happens when you select the volume and click on Start Scan tab as shown in the image below: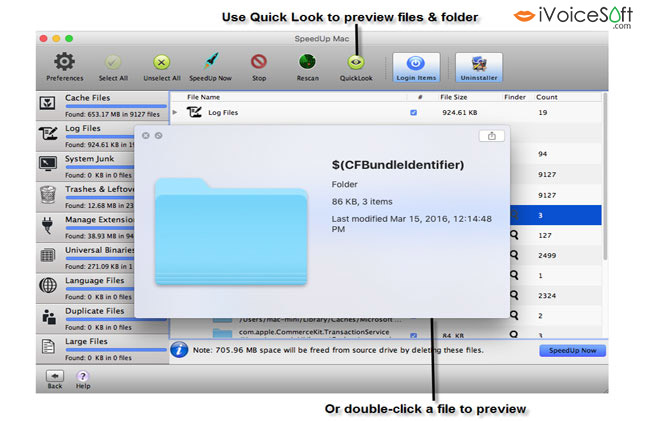 Once the Scan process is complete, it will enlist all your data files from where you can choose and remove the unwanted files. You can either double-click a file or click on the QuickLook button to get a preview of all the files as shown in the below image: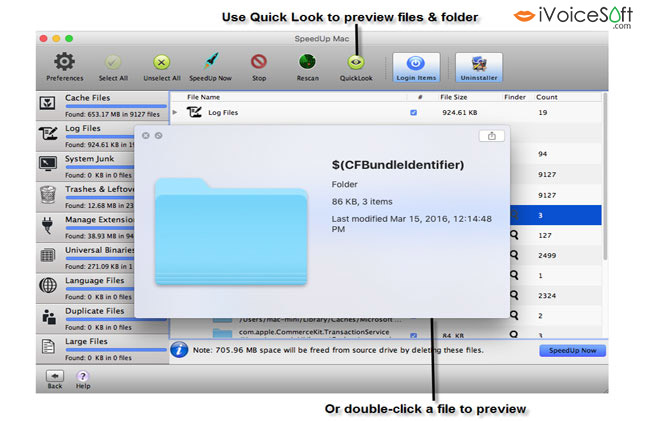 Once the Preview is there, you can click on the SpeedUp Now tab as shown in the image below: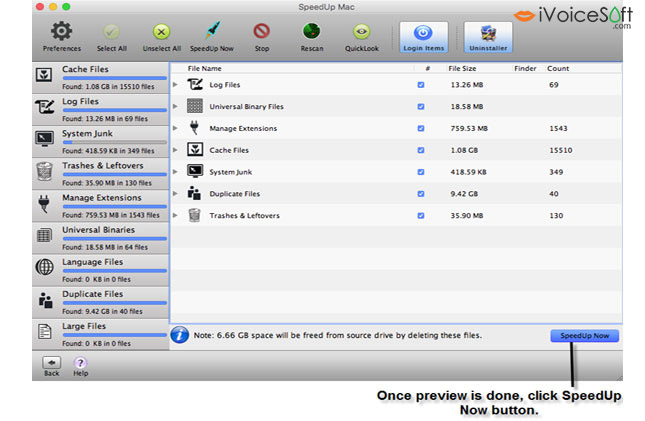 With this, the software gives you a warning message that you may suffer data loss. However, if you are ready to remove the selected files, you can remove the files with a single click on the Proceed tab as is shown in the image below.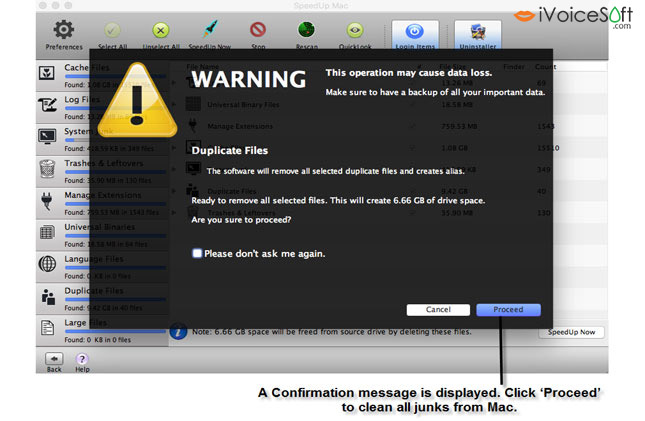 Once the process gets over, the software provides you with a message that the process has concluded. Together with the message, it also gives the total items removed and the free space created as is displayed in the image below.
Conclusion
Now that you are aware of the features, benefits, and working, you can use the Stellar SpeedUp Mac software to remove all unwanted junk files and applications and then increase the speed up your Mac machine.
~> Fine more Stellar discount code HERE