If you're a hardcore gamer, you should have known World of Warcraft (WoW) is a massively multiplayer online role-playing game (MMORPG). The game is a place where online players from all over the world experience themselves as heroic fantasy characters and explore a virtual work full of mystery, magic and endless adventure. To add more entertaining element to your gaming experience, today's article will enable you to not only interact with other fellow players, but the great part is that you will be able to troll or speak with them in different voices.
To proceed further, it is required that you should have the game and a voice changer software installed and set up on in your computer.
Step 1: Turn on Virtual Audio Device mode (VAD mode)
Double-click on VCSD icon to run the program. On the main panel, click Preferences >> Select Virtual Driver Mode (1) >> OK (2).
Step 2: Configure Audio Settings in World of Warcraft
Go to Control Panel >> Sound >> Recording tab >> Microphone (Avsoft Virtual Audio Device (1) >> Set Default (2) >> OK (3).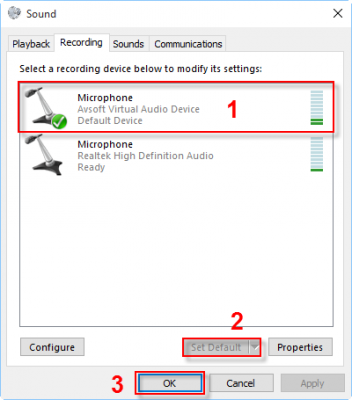 Now, the specified AV Audio Driver has been selected as main audio driver and is recognized by World of Warcraft.
Note that you shouldn't turn off VCSD while playing game as it's now used as audio driver for the game and control your voice modifications from now on. In case you don't wish to change voice while playing game, change this audio setting back to normal source.
Step 3: Have fun changing voice in World of Warcraft
Since audio settings are now ready, you can adjust available settings on VCSD main panel and speak to the microphone to see the difference. Check out several useful tutorials to see how this advanced voice changer software is able to do magic to your voice.