Working with numerous documents is hard and it requires good management skill to arrange, sort and protect the contents as much as possible. For busy people, having an assistant like file management tool which help them deal with different types of documents is pretty essential. And for this reason, we want to test out some top security software programs for protecting your files in the easiest and most professional way. The program on our spotlight today is Folder Lock from NewSoftwares.
About Folder Lock
Folder Lock is encryption software tools providing a simple and secure way to prevent unauthorized access to sensitive files. This program uses the Advanced Encryption Standard 256-bit key, which is the algorithm that many governments trust with their classified information across departments. Interestingly, this program also features file shredding and stealth mode which means extra security levels for your files. This advanced security program has received many positive reviews from PCAdvisor, Softpedia, CNET, and won the Top Ten Reviews Gold Award for best encryption software.
It is not a free program, it costs $39.95. The trial only 25 using time. After that, you can get the fully featured program here at a way cheaper price, only $27.97 for Folder Lock
Full review
When you have lots of data to encrypt, you'd better expect to spend quite a long time sitting in front of the computer dealing with your files. Folder Lock proved to be the fastest software in our lineup at encrypting data and deciphering it. We started with 63 files that totaled 128MB, and Folder Lock took less than six seconds to scramble and lock up all of those files. Another good point of this program is its capability to protect USB drive and to create wallets to list out and save sensitive contents and information (for examples, online passwords, bank accounts, etc.). Folder Lock even steps further ahead its fellow programs with a secure erase (shred) function, data lockers (Window Briefcase), and it's also able of running without showing any sign that it's operating.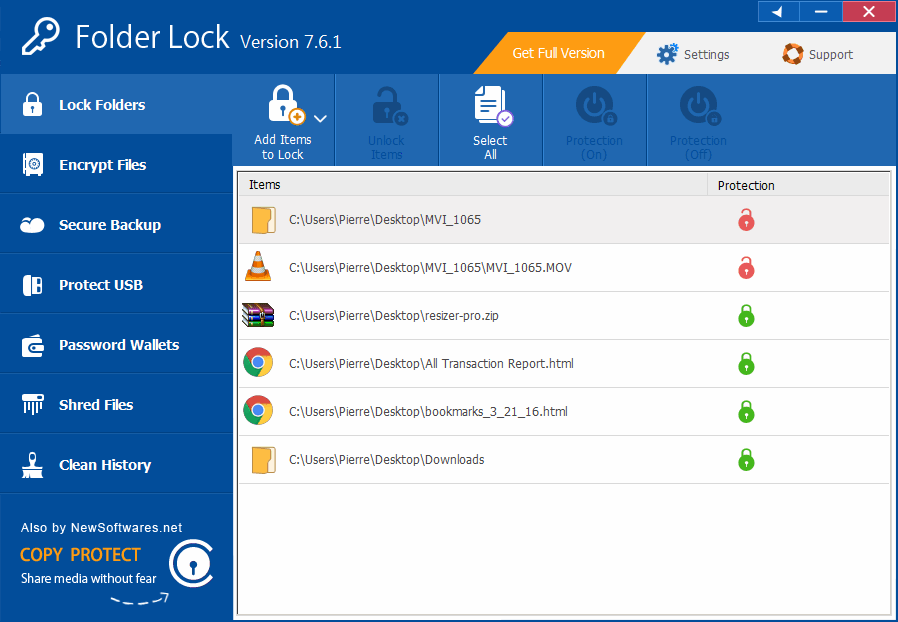 In addition, Folder Lock's latest version 7 has been added with an optional online component which you can chose to sync your data lockers to developer NewSoftwares' own storage service. However, this feature costs you a bit money every month up to the size you've used (normally a few dollars for ever 10GB). One fantastic thing making Folder Lock special is that, once you lock the files and folders so in case you leave the computer for sudden things, these files won't be visible to those trying to get a peek at your hard drive.
Regarding user interface, we personally think Folder Lock doesn't own a highly attractive one compared to other programs. Still, it somehow brings us a business look and extremely well-organized control panel and easy-to-follow menus for even first-time users.
Do you know: You also protect your CD/DVD or USB with password with Folder Lock.
Bottom lines
Folder Lock 7 truly is a versatile security software program that you can trust in helping you protect and organize your files. It offers users almost everything they ever ask for, and the price is quite competitive among similar tools regarding its powerful protection ability. Even though I wasn't impressed with the overall design and interface, I have to admit that Folder Lock is super simple for everyone to use, despite featuring advanced functions. You can try Folder Lock free trial version at homepage
Editors' rating:

4.7/5
>> Read the USB Secure Review – another product from NewSoftwares