Portable drives contribute heavily in data loss. Although, portable drives are a blessing when it comes to carrying data, but they are quite tough to manage. To eliminate the danger of leaking data, I would recommend all of you to use USB Secure, a product from Newsoftwares.
The software is one of its kinds; it is a PC independent program that ensures the safety of data kept on portable drives. It safeguards all kinds of portable drives such as USB flash drives, memory cards, external hard drives and others. It provides protection to your information with multiple layers of fortification, which gives portable drives foolproof security.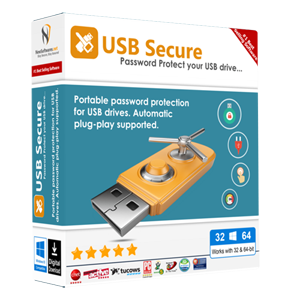 Being PC independent, the software does not require any sort of installation on the computer, it makes it dynamic portable drive security software available at the moment. The software allows you to open either the original file or you can strengthen your privacy by just opening the read only format of the file.
USB Secure makes your data safe on portable drives with the minimal of effort. It does not require any sort of proficiency in computing to utilize this software. The program is extremely easy to use and all it takes is a single click to protect your confidential files and folders. Data protected using this software is impossible to access without the master password, which means a precious peace of mind.
If you start using this wonderful software, you will never be worried again about losing your tiny thumb drive. Talking about portable data security, I found this software a class apart from all its contemporaries.
>> Another solution from NewSoftwares is FolderLock,  A high security option for your data. With Folder Lock, you can protect not only private folder but also CD/DVD and USB
USB Secure Screenshots
>> Read more How to Transfer Picture from Facebook to Google Photos