Having your data locked sounds like a safe way to protect your important information. Luckily, there are many software tools have such ability to help you. Nevertheless, work isn't the same every day and you cannot just sit at your desk all the time to deal with it. Sometimes, you need to work with this data from other PCs at different locations. It'd be extremely inconvenient if you need to install such program on every new PC that you use to unlock and access to the protected data. This is the reason why Folder Lock has been catching iVoicesoft.com editors' attention lately!
>> Check out the full review for Folder Lock here!
Folder Lock, of course, allows you to create password for critically important data so that no one is able to have the access to it. What's more?! Folder Lock is at the same time capable of encrypting your lockers to CD/DVD so that you will have a portable locker to use somewhere else without needing to install Folder Lock again. Each individual locker is protected with military grade encryption, ensuring that if you ever end up misplacing your CD or DVD, your data is guaranteed to stay safe.
Military grade encryption refers to what's called AES-256 Bit encryption that Folder Lock utilizes to protect data. it was the first publicly accessible and open cipher approved by the National Security Agency (NSA) to protect information at a "Top Secret" level. It is now widely-accepted as the strongest encryption there is – and used by governments, militaries, banks and other organizations across the world to protect sensitive data.
In this post, we'll guide you on a simple way to encrypt your lockers to convertible files to burn to CD/DVD.
What you need?
It is not a free program, it costs $39.95. The trial only 25 using time. After that, you can get the fully featured program here at a way cheaper price, Coupon code only $27.97 for Folder Lock
Note: the new portable Lockers, or a self-executable application (.EXE) will be limited to 4GB in size.
Let's get started to protect CD/DVD!
Double-click on Folder Lock icon on your desktop to run it.
On the main panel, click Protect USB/CD tab >> Protect CD/DVD.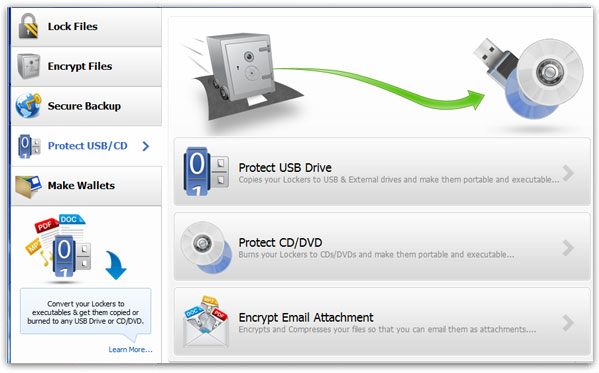 Now, a window will appear to let you select the target locker(s). Once you're done this step, simply click Next >> Finish.
Enjoy!