If you have ever seen behind-the-scenes footage of any Hollywood movie, you definitely know behind stunning screens are simple sets with a whole green background. Professional movie editor will merge them with those backgrounds to create gorgeous moments that you enjoy in the cinema.
Today we will reveal this secret of this technique using the cool video editor – Filmora (originally named as Wondershare Video Editor). To work with green screen video, this program provides users Chroma Key effects feature. Let's see how it works!
Requirements
A background video file
A

green screen

video file (or more as you like)
(The trial version is functionally the same as the paid version except there is a watermark in the new output files.).
STEPS TO TAKE
Step 1: Import all videos to Filmora
Run Filmora program >> Choose Full Feature Mode
Click Import button (1) to open your video file. Alternatively, you can click (2).
Click and drag both background and green screen videos to Filmora timeline for editing:
Drag background video to video session in timeline (3)
Drag green screen videos below background video (4)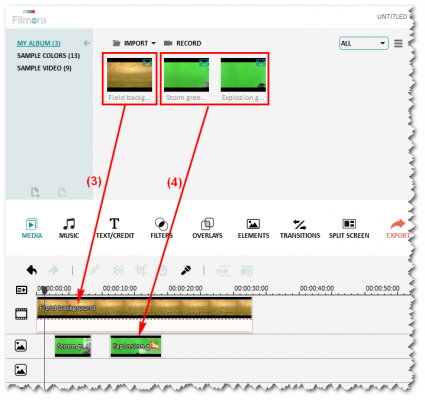 Note:
You can adjust the length of each video, as well as move its position to where you want it to start in the whole video by dragging it along the session.
Step 2: Configure green screen video
Double-click on green screen video >> Advance button (5)
In PIP Edit window:
Choose Effects (6)
Tick "Make parts of the clip transparent" (7)
Adjust Intensive Level slider (8) to increase or decrease transparent level
Play to see how it looks (9) >> OK
Step 3: Preview and export final production
Play the video in main panel to preview your work. If you're satisfied with it, click Export button to save it on your PC.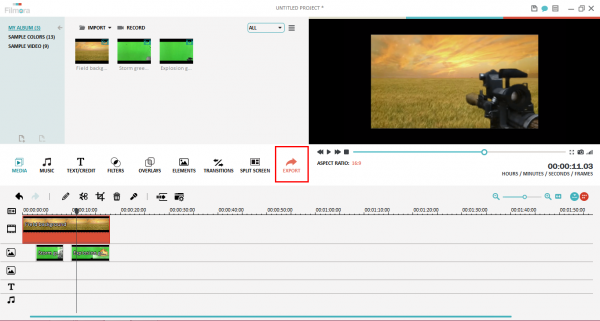 Let's take a quick look at how the videos have been put into one masterpiece:
Here's a quick guide on how to make green screen video using Filmora program:
Read more FILMORA tutorial: