Phoenix 360 is more than just software – it represents the future of PC care and maintenance, in which the performance you've come to rely on, the protection you expect, and the privacy our digital lives require are all integrated into one seamless experience. including:
Optimize PC speed
Block and remove malware
Recover irreplaceable files
Permanently delete sensitive data
Shield your online habits from spying eyes
Enhance identity theft protection
Stop browser tracking cookie cleaners miss
Secure and manage all your passwords
Mask credit cards during online transactions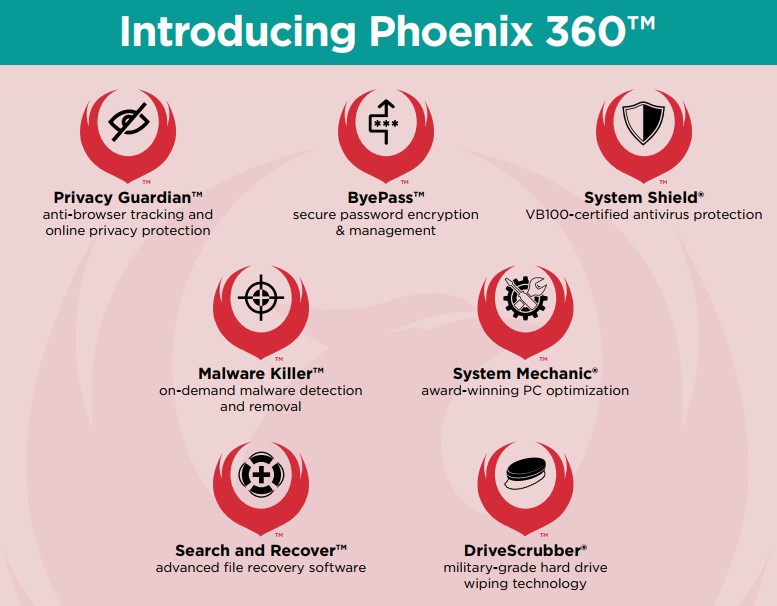 What total performance, protection and privacy in your digital life means
There are a frightening number of security and performance vulnerabilities in modern computing as methods for stealing your data, hacking your PC or bogging you down in bloatware, spam and pop-up ads grow more sophisticated every minute.
Many of the world's largest companies that consumers deal with daily have proven incapable of protecting personal data.* Hackers even forced the resignation of the Equifax CEO when they obtained the personal data of over 145 million U.S. consumers, including the credit card numbers of hundreds of thousands of people.
In such fraught times, iolo technologies, maker of the best-selling PC optimization software System Mechanic, delivers the most comprehensive security, privacy and optimization package yet to help safeguard, speed up and simplify your digital life with seven premium products for one low price.
What are the products included with Phoenix 360?
Phoenix 360 is a comprehensive security, privacy and optimization package. It consists of 7 integrated software products, including all the features of System Mechanic, which is the speed and stability component of Phoenix 360.
System Mechanic award-winning performance optimization
System Shield VB100-certified AV protection
Privacy Guardian anti-browser fingerprinting online privacy protection
ByePass secure password encryption and management
Malware Killer on-demand malware removal.This product is undergoing final integration and will be installable within the next few weeks after
DriveScrubber military-grade drive wiping technology
Search and Recover deleted file recovery software
What does Phoenix 360 helps protect you against?
Password hacks
Credit card theft
Spying on your online habits
Personal data selling
Targeted price discrimination
Reputation compromise
Ad-trackers
Accidental file deletion
Sensitive data theft
Malware invasions:

protects against threats
removes existing infections

Windows security holes
Bloatware and startup bottlenecks
Slowdown induced by needlessly running background apps
Keep devices healthy, fast and safe with Phoenix 360, the first all-in-one software to help secure, speed up and protect all aspects of your digital life.TM
>> Get Product with 20% discount at iolo Phoenix 360 HERE!