COLOR projects 5 is a photo editing software developed by FRANZIS. It's designed to help users enhance and manipulate the colors in their photographs. The software typically includes various tools and features for adjusting color balance, saturation, contrast, and other parameters to achieve specific visual effects.
Link download
To obtain a free license for COLOR projects 5 (Win&Mac), follow these steps
Installation
Unzip the package you've downloaded to a separate folder and run Setup.exe or Setup.dmg to start the software installation.
Visit the page below, fill in your email first and then your password for Franzis account if you already have one or you'll be required to create one.
https://reg.franzis.de/reg/CPM-22256000/999999999/0/502/1.3/3/en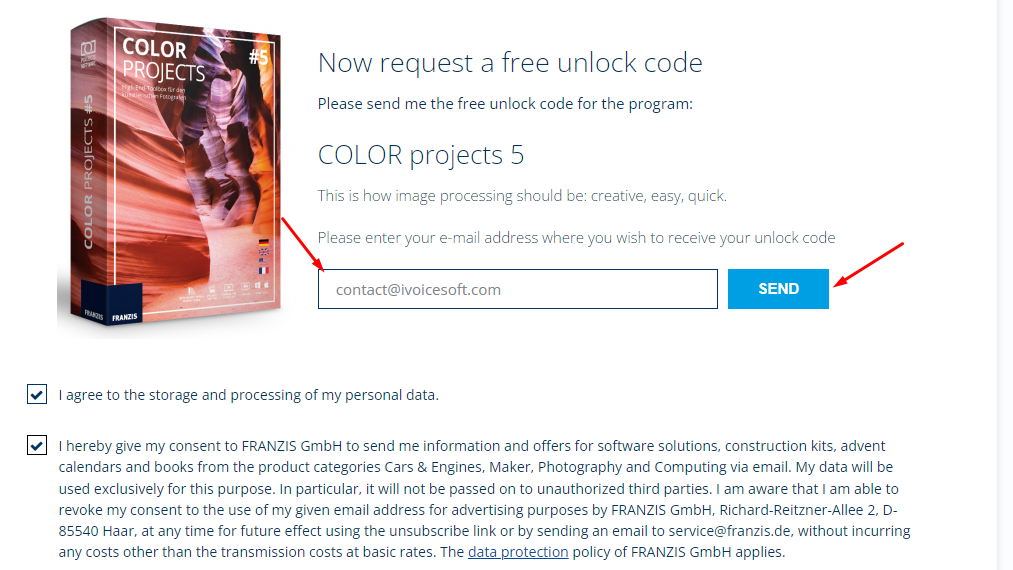 After this, you'll receive your personal registration code to your registered email address.
Run the program and use the code to finish the registration procedure.
You have to install it before the Giveaway offer for the software is over.
No need to worry if you missed our giveaway! Embrace the good news – we're currently providing an enticing 80% discount on COLOR projects 6.

Terms and conditions:
Kindly be aware that the software you download and install during the iVoicesoft Giveaway period is subject to the following significant limitations:
No free technical support
No free upgrades to future versions
Strictly non-commercial usage
Get Giveaway every day!