(14-Nov-2023)
Apeaksoft Android Data Recovery is software designed to help users recover lost or deleted data from Android devices. This may include various types of data such as contacts, messages, photos, videos, documents, and more. The software is typically used in situations where data has been accidentally deleted, lost due to a system crash, software update, or other reasons.

Link download
How to get Free License giveaway Apeaksoft Android Data Recovery
To obtain a free license for Apeaksoft Android Data Recovery through the giveaway, follow these steps:
Unzip the package you've downloaded and double-click "Setup.exe" to install the software.
Click "Get Free Registration Code" button in the pop-up window or visit the page below and get the registration code. https://www.apeaksoft.com/special/gotd/android-data-recovery
Register the software using the user name and registration code.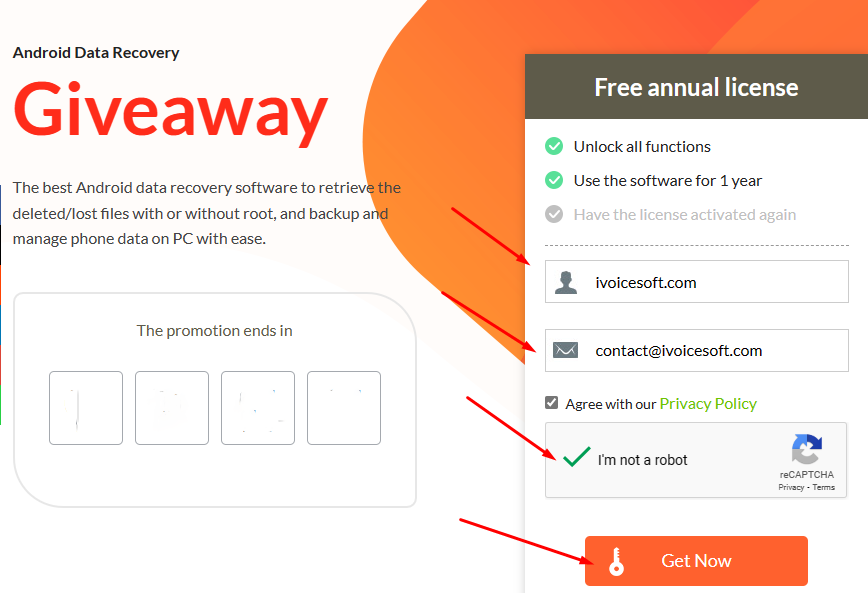 You have to install and activate it on 14th November, 2023 before the Giveaway offer for the software is over. After you have successfully registered, please do not register it again or reinstall it, otherwise the registered version would be turned into trial version.
Learn about our best-selling program for getting lost or erased data back from Android devices, and take advantage of our special offers!

Terms and conditions:
Please be aware that the software you download and install during the iVoicesoft Giveaway period is subject to the following significant limitations:
1) No free technical support
2) No free upgrades to future versions
3) Strictly non-commercial usage
4) No support for resetting the free registration code
5) One year licence

Get Giveaway every day!