With the release of various voice editing programs recently, it has been confusing many audiophiles and users is selecting the right one for personal and professional use. To give you a more reliable understanding on this kind of program, this article will bring you throughout reviews on the best 4 voice editors, including Wavepad, AVS Audio Editor (Avs4you), AV Voice Changer Software Diamond and Adobe Audition.
1. WAVEPAD
System Requirements
Windows 10 / 8 / 7 / XP / Vista
64-bit compatible
Mac OS X 10.4 or higher
iOS 3.2 or later
Android OS 2.3.3 or later
Editors' rating:

Wavepad offers users a clean and easy-to-use interface that allows convenient and quick navigation while you're processing the audio. Each module changes differently once you choose a new tab on the navigating ribbon on the top. Also, it's very helpful from an organizational standpoint. However, if you run Wavepad on Mac OS, the toolbar may interrupt your editing by keeping popping up sometimes.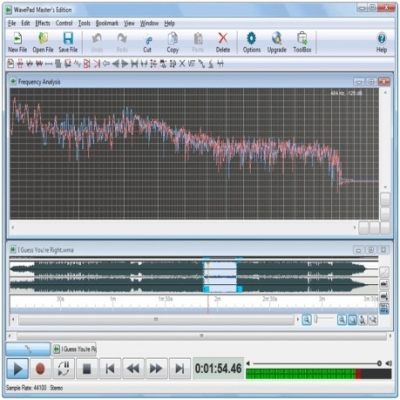 This program easily undoes and redoes an unlimited amount of editing processes, which is a significant feature for audiophiles working with multiple files at once. It also includes batch file feature that lets you convert files in various formats into one with only one attempt. If your editing project has something to do with recording, just connect your USB microphone into your PC and click record to start the process. Wavepad intuitively offers recording and mixing multiple audio tracks simultaneously. In addition to these editing tools, the program also includes basic audio effects mostly used in audio editing tasks, such as echo, delay, reverse, amplify, reverb, distortion, auto-trim, fade-in and fade-out.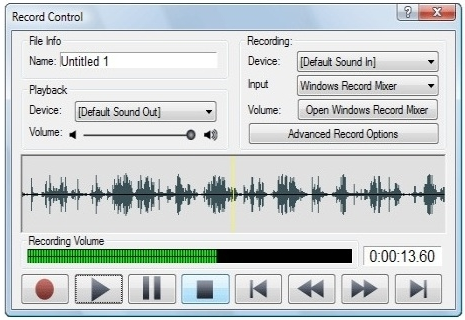 Wavepad is excellent at conversion and importing capabilities. It's able to import a wide range of file formats, including AAC, AIFF AU, FLAC, MP3, MP4, M4A, OGG, WAV and WMA. Furthermore, it is also capable of extracting audio data from video files like M4V, MOV MP4, MPG, DIVX, DV and WMV.
Bottom line
Wavepad overall is a great audio editing program suitable for all types of users thanks to its simple and easy-to-follow interface. It has almost every basic features that users ever need for an audio project. The most outstanding feature to us is Wavepad's ability to convert and extract data from input video files effortlessly which is hardly found in other software. However, despite the capability of reducing unwanted nose in vinyl recordings like the company claims, it takes lots of time for the program to process a file with this feature (more than half an hour). Besides, Wavepad is not fully compatible for MAC OS yet, it only works perfectly on Windows OS.
Pros
– Lots of features
– Accessible
– Supports most formats
Cons
– Some features are only available in Master or Standard editions
2. AVS AUDIO EDITOR
System Requirements
Processor: AMD / Intel Core 2 Duo compatible at 3 GHz or higher
RAM: 2 GB or higher
Video: Windows 10/Windows 8.x/Windows 7 compatible video card
Sound: Windows 10/Windows 8.x/Windows 7 compatible sound card
System requirements may differ depending on the Windows 10/Windows 8.x/Windows 7 version installed and increase when Windows Aero interface is enabled.
Editors' rating:

AVS Audio Editor possesses a logical interface that makes users comfortable controlling it even when they're newbies. The transport with all of the track recording information is located at the bottom of the screen with the editing tools located conveniently at the top. Other audio controllers are right next to your audio track so you can adjust it immediately during the editing process. The buttons have their own graphics instructing you on what their functions are, so the interface is generally intuitive for all users.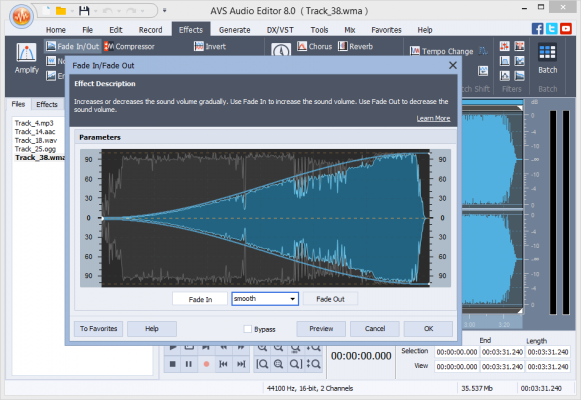 Like WavePad, AVS Audio Editor can effectively reduce noise from audio files, but this program takes shorter time to process your file and the results aren't much different from what its competitor does. Moreover, AVS Audio Editor offers various useful audio effects for the user' convenient use. You can select between 20 built-in effects and filters including delay, flanger, chorus, reverb, and more. Mix audio and blend several audio tracks. AVS Audio Editor saves output files in any popular format.
This program works with almost all key formats, including:
Read: MP3, WMA, WAV, M4A, M4R, AAC, AMR, OGG, MP2, FLAC, AIFF, AU, AVI, IVF, DIV, DIVX, MTV, AMV, MPG, MPEG, MOD, MPE, MVV, M2V, WMV, ASF, DVR-MS, DAT, IFO, VOB, VRO, M2TS, M2T, MTS, TOD, TS, TP, DV, MKV, OGM, OGV, OGA, OGX, RM, RMVB, RAM, IVR, MOV, QT, M4V, MP4, 3GP2, 3GPP, 3GP, 3G2, FLV, SWF, MKA, RAW, PCM, GSM, MID, MIDI, KAR, APE, QCP, MPA, RA, SHN, VOC.
Write: MP3, WMA, WAV, M4A, M4R, AAC, AMR, OGG, MP2, FLAC, AIFF, AU, AVI, IVF, DIV, DIVX, MPG, MPEG, MOD, MPE, MVV, MTS, TOD, MOV, QT, M4V, MP4, 3GP2, 3GPP, 3GP, 3G2, FLV.
Bottom line
AVS Audio Editor is one of the most fluid programs to use. It has many editing tools, effects and presets to choose from. The simplicity of this audio editor makes it accessible for users with any type of audio editing experience.
This is a great tool-of-choice for users with any types of audio editing experience thanks to the rich and conveniently visible navigating ribbon and toolbar during the editing processes. Besides this audio editor, AVS4YOU also offers 10 other video/audio processing tools as a pack with reasonable price. However, the price overall is still pricey for many audiophiles.
Pros
– Nice interface
– Lots of ways of grabbing audio
– Good selection of effects
Cons
– No tutorials or guides
– Help file must be downloaded separately
3. ADOBE EDITION
System requirements
Operating system: Windows 7/8/8.1
Memory (RAM): 2GB
Hard disk space: 2GB
Processor: Intel Core 2 Duo or later
Price: $24.79 per month for a single app / $61.99 per month for all apps (20+ apps).
Since Adobe Audition comes from the Adobe Creative Cloud, you pay for the service on a subscription basis.
Editors' rating:

Unlike other audio editors, Adobe Edition is a bit more complicated and is highly recommended for those who're already familiar with editing software previously. Still, the program's interface is brilliant and is able to switch between different layouts. Users can easily change the layout as they want, but it's impossible to add or remove tools from toolbar.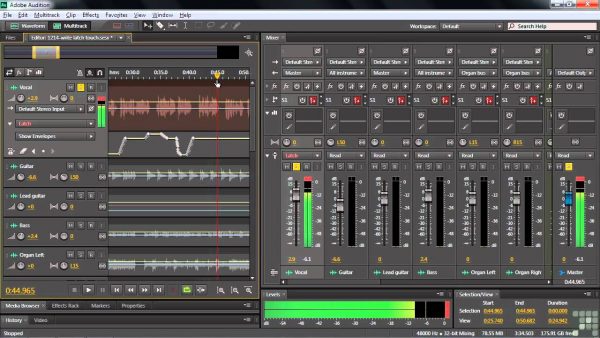 Regarding editing and recording functions, Adobe Audition generously allows you to record more than one audio source at once and you can easily deal with multitrack recording tasks and do the recordings simultaneously. This program includes a bunch of surprising digital mixer and audio effects that you can not only adjust or enhance audio quality, but also polish your output results in a few clicks.
Interestingly, this software program is frankly the best tool for eliminating unwanted noise in your recording. It produces one of the most outstanding results we've ever tested before and the output was completely clean and high-quality. If you have multiple files that you want to apply processes to, you can click on the batch-processing tab on the file manager and add files for batch processing. This is a quick way change multiple files in one sitting.
Furthermore, Adobe Audition works with all files extensions including AAC, AIFF, AU, FLAC, MP3, MP4, M4A, OGG, WAV and WMA. About extracting audio files, the program is also excellently capable of converting various video formats into audio files. Yet, the program fails to convert to MP4 format, as well as to extract audio from DV videos.
Bottom line
Adobe Audition comprises of greatly advanced features that any professional users ever wish for. It has multi-track recording and editing capabilities, excellent restoration tools that creates amazing results, plus good format compatibility. The only thing may take you aback is its price as it's based on monthly purchase instead of a year or a lifetime license like the others. Still, if you're considering a superb software tool for audio editing, Adobe Audition is definitely recommended. Overall, we frankly think Adobe Audition is worth being called the best audio editing tools in this review even though it still lacks at some points.
Pros
– Supports multi-track editing
– Clean tabbed interface
– Allows editing of frequencies
– Supports editing native 5.1 surround sound
– Integrated with Creative Cloud
Cons
– MIDI support complex
– Long installation process No CD burning tools
– Requires Creative Cloud subscription
4. AV VOICE CHANGER DIAMOND
System requirements
All Windows
Hard disk space required: 100MB Full-duplex soundcard
Microphone and headphones (speakers)
Please note that this software does not support Mac OSs, or Linux OS of Sun computer.
Editors' rating: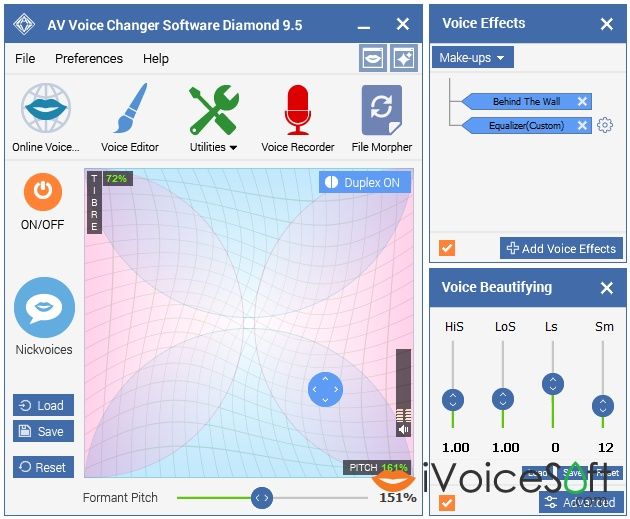 Obviously stated in its name, AV Voice Changer Software Diamond is specialized in changing voice or audio. It contains numerous audio morphing features, including Voice Morpher, Voice Over, Recorder, Parody Mixer, File Morpher, Voice Comparator, Voice Analyzer, Voice Effects, Music Morpher and Background Effects. The coolest thing about this voice changer software is its smartphone-like design which makes you feel pretty trendy while morphing audios. The easiest and most important parameters that is able to change human voice is Timbre and Pitch levels, and these can be found immediately on the main control panel of Voice Changer Software Diamond.
Another great point is that this program includes a ready list of sample voice output (as known as "nickvoice") which users can click and use instantly. For examples, you can change your voice from male to female and vice versa. If you want specific voices like movie characters, there is also a rich list for quick use.
Different from other audio editors, AV Voice Changer Software Diamond had the capability to connect with online voice chat applications/online games (Skype, Yahoo, AIM, TeamSpeak, Counter Strike…). With a few simple configurations, you can make fun calls and voice chat sessions with your friends while using such applications.
Bottom line
Voice Changer Software Diamond is an all-rounded audio editor that allows users to process audio files professionally. It also offers batch file morpher which applies effects morphs multiple files at once. What makes this unique compared to other tools is that it has the ability to let you change your voice while using online chatting applications like VoIP and online games. It is fair to say that Voice Changer Software Diamond includes all the audio modification and manipulation functions that suit both audiophiles and online entertainers. Putting online voice changer feature aside, this program may not the most advanced audio editor having top-notch editing technology like Adobe Audition, but if you're more of a user that prefers more entertaining time online, this program is definitely worth a try.
Pros
– Great fun
– Lots of voice preferences
– Compatible with VOIP apps
Cons
– Complicated user interface
>> Related post: Edit your voice in Voice Changer Software Diamond 9