What Is Google Drive Migration?
Migrating Google Drive means transferring contents from Google Drive to other cloud drives. For example, migrating from Google Drive to OneDrive. Sometimes it refers to moving files from another cloud drives to Google Drive, such as Dropbox to Google Drive, Box to Google Drive or Evernote to Google Drive.
Why Need to Transfer between Google Drive and Other Clouds?
Google Drive is considered a file storage tool that allows you to edit documents and save them directly to Google Drive. It gives users 15GB of free storage. Why users need Google Drive migration? The following are all the reasons:
Users wants to switch cloud drives;
Users need to share files and data between them;
The source cloud drive is completely full and the target cloud drive has a lot of free space;
Users need better cloud management. For example, store certain types of files in a cloud.
This shows that cloud-to-cloud transfer is necessary, and we do need Google Drive migration.
How to Migrate with Google Drive?
Whether it's moving from Google Drive or migrating to Google Drive, how do you do it? As we all know, the most common method we use is to download files from a cloud drive to the computer first and then upload the downloaded files to another cloud drive. In fact, this method is time-consuming and its process depends on the speed of the network. Is there a simpler and more straightforward way? Among all the Google Drive migration tools on the market, the free professional and reliable MultCloud is a recommended tool.
MultCloudis a powerful multiple cloud storage manager that lets you organize all of our clouds into one safe place and transfer and synchronize files between different cloud drives effortlessly. It not only provides an easy way to access and manage files through web-based application, but also offers a smooth user experience and an intuitive interface.
Here's how to use it to move files between Google Drive and another cloud drive:
Create a MultCloud account. Or, you can click "Experience without signing up" option.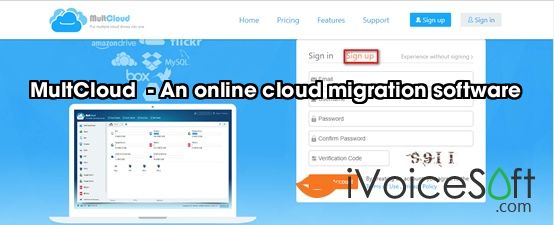 As an online cloud migration software, MultCloud only requires you to register without having to download and install it on your computer to take up your hard drive space.
Add Google Drive and Other Related Cloud Accounts to MultCloud.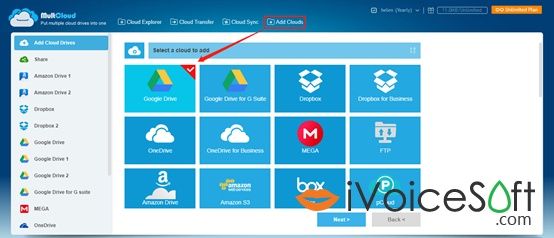 You should connect all the cloud drives involved to MultCloud. Then click the "Add Cloud" and select Google Drive and other cloud drives.
Easy and Direct Google Drive Migration
Choose a Google Drive account as the source and select your another cloud drive account as the destination. Click "Transfer Now".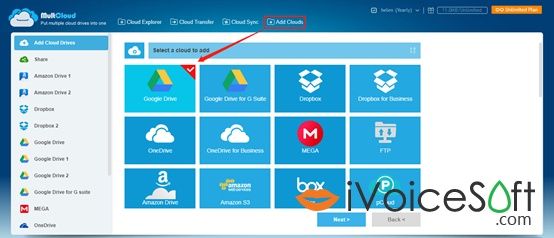 You don't have to worry about a lot of complete steps, and you don't have to wait a long time. MultCloud makes the entire migration process so easy. With just a few clicks, your files have been transferred from Google Drive to other cloud drives.
More about Cloud Transfer for Google Drive
You can see from the cloud transfer section of MultCloud, there are three settings at the bottom of the screen: "Options", "Schedule" and "Task".
Options: You can make advanced settings here. For example, choose whether to delete all source files after the transfer completes. More importantly, it also has a transport filter that allows users to move cloud files with specific extensions. When you select a specific extension, the file is automatically recognized and they will be transferred from one cloud to another.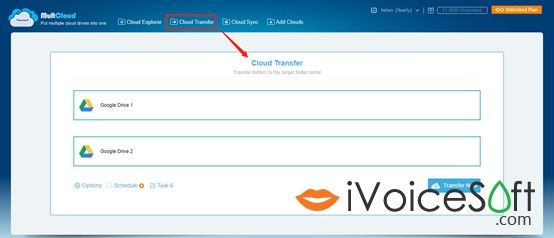 Schedule: Set the time to schedule MultCloud to automate tasks on a daily, weekly, weekly or monthly basis. We can set up automatic cloud synchronization at specific times, which is very useful when we need to synch data between cloud drives frequently. In addition, with MultCloud, users can receive email notifications as long as the cloud file transfer between the clouds is completed.
The Bottom line
With all of the above highlights, MultCloud is one of the must-have products for all users who need to manage, sync and move files between cloud drives. Even better, it offers up to 30GB of data to transfer and sync per month for free, which is enough for most users. We recommend that everyone check MultCloud and try it out.
Multcloud is a product of AOMEI Tech, an up-and-coming provider of innovative hard disk partition management, reliable backup & restore solution, and easy cloud storages management since 2009.
You can get all software products of AOMEI with discount at HERE.
The best seller is AOMEI Partition Assistant Pro. This is a cool disk partition management software which has earned good reputation among worldwide users. Get AOMEI Partition Assistant Pro with 30% OFF HERE.