Today we will show you an easy way to record screen on your Windows 10/8/7/XP computer with high quality still.
I believe most of you guys are familiar with taking screenshots on your Windows computer. How about capturing the on-screen activity? If it momentarily stumped you, well, after finishing this guide, you will have the method under your belt.
Why do People Record Computer Screen?
Living in this video-surrounded world, common people spends more time on watching online video sources from various platforms (e.g YouTube, Netflix and Udemy), on video chatting, video gaming and streaming. While what you didn't see behind the screen are numerous video makers who bend themselves to the video production.
Screencast, generally known as video screen capture, is one of the easiest ways to communicate, educate and share ideas online via video form. It can be leveraged in many situations for both video creators and viewers.
For online educators, vloggers and video marketers who are willing to demonstrate some curriculums, instructions or operations, screencast is the easiest way to realize it.
For the audiences who want to watch the online movies, TVs, courses, streaming videos and webinars more than once or offline on the way, screencast also makes it come true.
Also, sometimes, you may just want to keep a record of your personal video call, record software or system bug, filming a piece of webcam face or the microphone sound…
We can't list all the possible scenarios. But no matter what, screen recording software is a must-have for those screencasting stuffs.
What Makes a Good Screen Recorder?
Tech-based screen recording software doesn't come here once in a blue moon today. Therefore, you don't have to be a computing or video professional to work out a screencast, but only need a slick recorder helper. Then what qualities can form the foundation of a great screen recorder? We summed several key characteristics below:
The power to capture anything that may come from the computer screen – the desktop, application, browser, file explorer, webcam, system sound, and microphone.
Flexible settings on recording content and effects, including the video size, quality, format, cursor movement effect etc.
Built-in annotation tool and editor to export a more engaged recording.
Good compatibility with mainstream systems and multiple-monitor operating environment.
After being acquainted with these traits of a solid recorder, you can sift through the plethora of screencasting programs for a real decent one. To save your time, we will recommend you an easy yet feature-rich screen recorder for Windows for your reference here. And that's exactly RecMaster.
RecMaster Overview & Key Features
RecMaster is easy to handle, user-friendly and gives one-click solution on Windows screen recording with its multiple recording modes and attached toolbox. Let's check the details:
Five recording modes help create all kinds of screencasts with ease, even including the multi-monitor capture.
Comprehensive recording settings are available to output various videos like HD MP4, 4K @60fps gameplay, picture-in-picture tutorial with audio and vertical mobile-friendly clip.
Real-time annotation is always ready for marking the tutorial or guide by highlighting, texting and similar.
Additional editor and sharing button are preloaded for cutting video or uploading online directly.
Scheduling recording is a bonus functionality to enable any future screencast even you are away from PC.
RecMaster is compatible well with Windows 10, 8(.1), 7 and XP, both 64 and 32 bit included.
How to Record Windows Screen with RecMaster?
By following the steps below, you can make your Windows screen capture a snap. But before we get it started, please free download RecMaster from its official site or by clicking this download link. When the exe package is fully downloaded, click it to finish the setup by following the wizard and then launch it to move on.
Note: The free trial version you downloaded has a time limitation. Please buy RecMaster for full license with 72% off discount here.
Step 1 – Choose a recording mode
Five big function options – Game Mode, Full Screen, Custom Area, Webcam and Audio Only – are located on the main UI. They are so self-explanatory that you can choose the right one straightforwardly according to your actual need. Only take a note on the mobile phone mode placed on the left top corner of Custom Area. It's specially designed for shooting at a mobile-friendly 9:16 aspect ratio.
Step 2 – Set for recording
When entering into the secondary main window, you are suggested to check the default settings to decide whether to make a change or not. They include monitor, output format, quality level, frame rate and also the status of webcam/system sound/microphone. For more settings on cursor effect, watermark, hotkey, and more, please press the Settings to pop up another control.

If you plan to auto-start a capture on live streaming or any other action in the future, please take advantage of the Task schedule tool to set and enable a mission ahead of time and kick it off timely.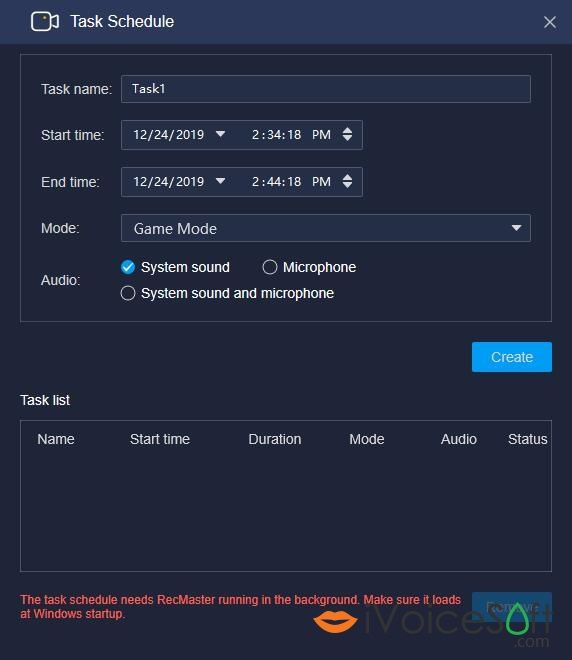 Step 3 – Start and end the capture
Press the red REC button to start the process. Whenever it's over, tap red icon on floating bar or main window to end it. Alternatively, you can use the shortcut Alt+2.
Step 4 – Edit and share if necessary
All recorded files will be listed in the recording list, from which you can preview, rename, edit or share it in clicks.
That's all about how to record your screen on Windows 10/8/7/XP with RecMaster. To enable you avail all the benefits of it, we here deliver a discount of it for you.