Learn how to switch cameras remotely while live with ManyCam's remote control feature to enhance your virtual presentations and training sessions. This feature allows you to seamlessly switch between scenes using your mobile device while conducting live sessions on your computer, freeing you from being tied to your desk.
ManyCam allows you to use mobile devices as cameras instead of pricey gear. Multiple cameras may be set up to show different viewpoints and subjects, making it suitable for live virtual training, product presentations, hybrid learning, and more.
How to Switch Cameras Remotely While Live: A Step-by-Step Guide
This tutorial explains how to use ManyCam's new Remote Control feature, available on Windows, Mac, Android, and iOS. While we are using ManyCam Lite for this demonstration, you can achieve the same results with the current version 7.
Step 1: Prepare Your Video Sources

Preparing your video sources is a crucial step before starting any video conference or streaming session, and it's important to configure your presets to make the most of the remote control feature.
Here are some options to consider for your setup:
Utilize picture-in-picture layers to incorporate your webcam view, PowerPoint presentation, and a close-up shot of the subject matter simultaneously.
Enhance visual interest by incorporating multiple camera angles, including close-up shots.
Experiment with various elements like YouTube videos, images, NDI inputs, and your webcam view to make your content more engaging.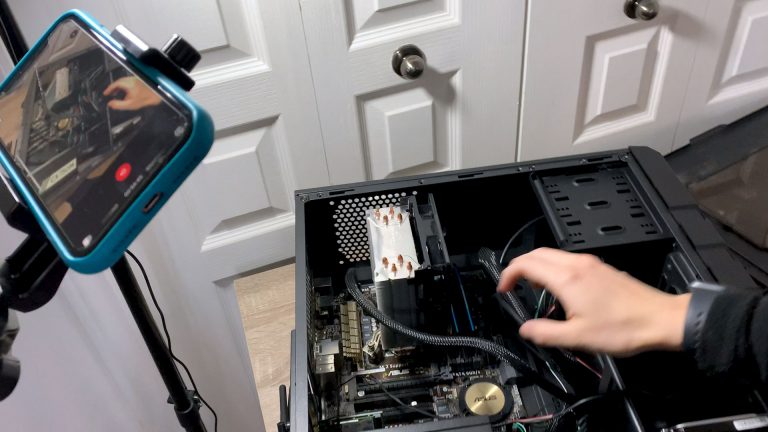 Step 2: Download the ManyCam App
To prepare your remote control, download the ManyCam app on the mobile device you intend to use as your remote control. You can find the app on both iOS and Android platforms.
The goal is to link your desktop program to your mobile device, changing the device into a remote control for managing video streams.
Step 3: Log In
Open the ManyCam app and go to Settings to log in using your ManyCam account. Ensure that you use the same account that you have on your ManyCam desktop application.
Step 4: Connect to ManyCam Desktop
Return to your ManyCam desktop application and click on an empty preset. Add a new "mobile device" source, and a pop-up will appear with a list of available devices. Select your mobile device from the list.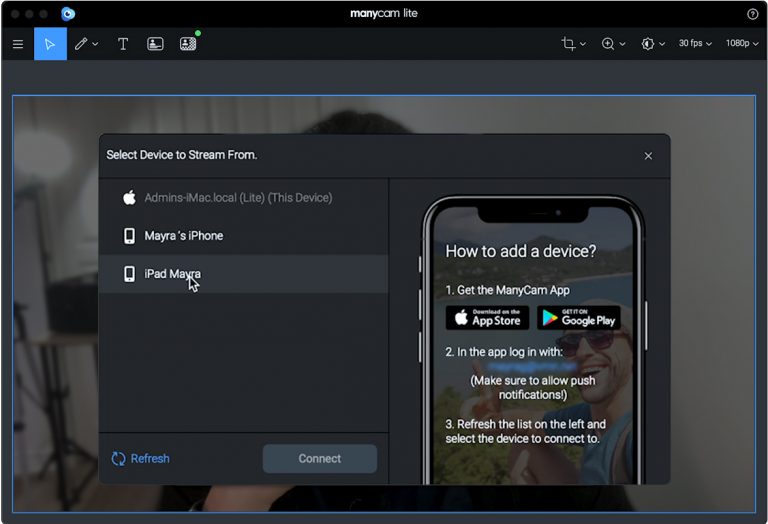 Step 5: Accept the Connection on the Device
Your mobile device will receive a notification to authorize the connection. Click "Allow" to establish the connection. Once connected, the main button on the app will turn red.
Step 6: Activate Remote Control on the App

In the ManyCam app, click on the remote control icon to activate the feature. All your presets will be displayed in the app. By selecting each preset, you can control your live window on ManyCam, and consequently, on any live video platform you are using.
When you are in virtual training sessions, product demonstrations, webinars or teleconferences, this remote control feature will allow you to leave your desk. It enables you to provide a closer look and a more hands-on approach to your live demonstrations, ensuring that your viewers remain fully engaged and grasp your message more effectively.
Conclude

Overall, the Remote Control feature is extremely intuitive and capable of being used on both IOS and Android devices. In any live video scenario, whether it is small business presentations, customer support or large scale virtual training sessions and webinars, they serve as an excellent method of infiltrating your audience.
Get Giveaway every day!