You might have heard the phrase "audio morphing" a lot recently due to the variety of users' demands for both entertainment and profession. Let's iVoiceSoft introduce to you another form of morphing that surely catch your attention instantly – "photo morphing"!
This is a special effect in motion pictures and animations that morphs (or simply understood as "changes") one image into another through a seamless transition. Check out an example below: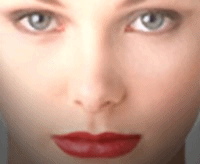 Today, I would like to have an in-depth review on Abrosoft FantaMorph – an outstanding Windows and Mac application that allows creating morphing images/movies fast and easily!
Editors' rating:
Price & Editions
Abrosoft FantaMorph has 3 editions (Compare FantaMorph's Editions)
FantaMorph Standard: $29.95 – $20.97 
FantaMorph Professional: $59,95 – $41.97
FantaMorph Deluxe: $99.95 – $69.97
Note: This promo price may be changed in the future. But don't worry. We daily update discount with the best price. So please visit Abrosoft FantaMorph discount page to get new linked-coupon if you cannot use above link.
About Abrosoft FantaMorph
This program is a very interesting software program featuring outstanding photo morphing abilities and an elegant interface for all users. Once you run this program, a wizard leads you quickly through the process of creating a morphing effects (creates a transition animation between pictures), and warping effect (generates an animation based on a single image).
Main features
VARIOUS LANGUAGES SUPPORTED
The first things that satisfied me was its diversity of language support. Users can easily choose their own language thanks to the software's various options, including English, French, Español, Deutsch, Portugese (Brazilian and Portugal), Italian, Dutch, Italian, Norsk, Danish, Swedish, Turkish, Hungarian, Russian, Japanese, and Korean.
ELEGANT AND FRIENDLY USER INTERFACE
Abrosoft FantaMorph possesses a good-looking, straightforward interface that brings this advanced animation software within a newbie's reach.
The program has 3 built-in skins: Standard skin, MAC skin, and Blue skin. However, you can also replace such built-in skin with an downloadable one – Butterfly skin – at this link.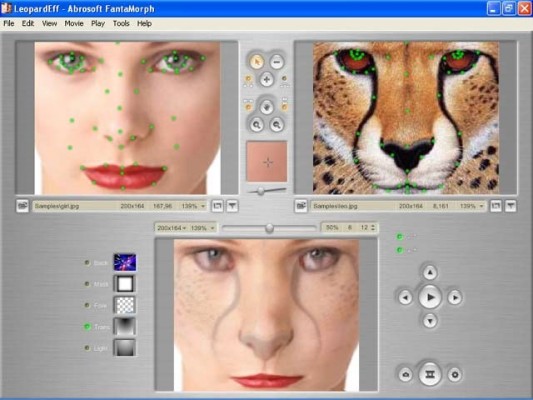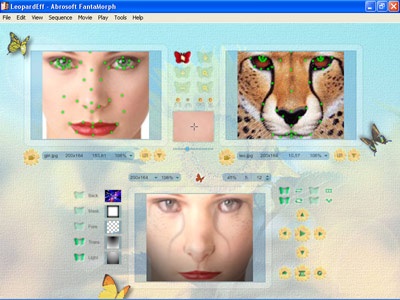 EXCITING BUILT-IN VISUAL EFFECTS
FantaMorph is a versatile one-stop photo morphing software program that enables people to add unique and exciting visual effects to screen savers, web graphics, music videos, advertisements, movies, educational software, presentations, email, greeting cards, and various other electronic documents.
With the help of this tool, you can effortlessly morph your own pictures in countless ways, of course in its best quality.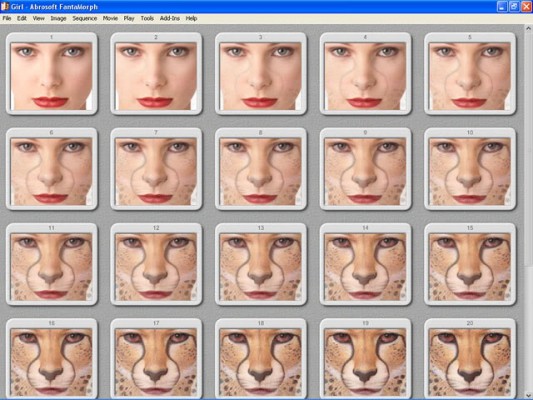 ADVANCED, FAST EDITING TOOLS
With the advantage of hardware acceleration, plus the rendering speed can runs up to hundreds of FPS (a.k.a Frames Per Second), FantaMorph produces a high speed process making it possible to play final effects in real time without requiring you to export to a file.
Additionally, this software program supports multiple morphing creator that helps create long-length videos/movies with multiple source images.
Besides basic editing features, you can also find other advanced tools like Feature Curve, Shape Curve, Master Curve, Track Curve, Camera, etc. in Pro and Deluxe to create gorgeous and exciting morphing effects.
Three innovative add-ins were also especially added to the Deluxe edition, including:
Face Extractor: to automatically extract a person's face portion from a photo
Face Locator: saving your time by detecting all facial points (eyes, nose, mouth, cheek, eyebrow,…) and place dots respectively
Face Mixer: to compose a virtual face with multiple real faces
VARIETY OF FILE FORMATS SUPPORTED
Import – BMP, JPEG, TIFF, PNG, PSD, TGA, PCX, GIF, WMF, EMF, AVI, includes 32-bit with alpha BMP, TIFF, PNG, PSD, TGA
Export Image – BMP, JPEG, TIFF, PNG, TGA, PCX, GIF includes 32-bit with alpha BMP, TIFF, PNG, TGA
FME/FMD – Import/export FME (FantaMorph Editing Frame) and FMD (FantaMorph Point File)
Export Movie – AVI (uncompressed, compressed, 32-bit), QuickTime, Animated GIF, SWF, HTML, Screen Saver, Standalone EXE
Bottom line
I have to say that despite the professional features and interesting benefits Abrosoft FantaMorph offers, this program has an incredibly friendly user interface that gave me a great time exploring and reviewing it. There are more about this program that I can't tell you all in this article all alone, you have to discover them for yourselves, they are easy to use, and the results can be quite impressive. Overall, FantaMorph is a professional photo-animation software, and yes it's also a valuable and sophisticated toy for personal entertainment.
See how you can create your first morph in a few minutes:
FantaMorph Videos Demo
These are some of the outstanding morph videos produced by FantaMorph users.
~> More Fantamorph Videos Demo here
Compare FantaMorph editions
Below are main comparisons of FantaMorph editions. See more detail of FantaMorph comparison here.
FantaMorph Standard – Basic features include:
Morph between 2 images
Easy-to-use project wizard
Import common image formats
Export to Image Sequence, AVI, Flash, Animated GIF, EXE, Screen Saver, etc.
Real-time preview/play
FantaMorph Professional – Professional features include:
Morph multiple images
Feature/Shape/Master Curve
Create 32-bit morph
Add caption, filters for source images
Add-on movie effects (background, mask, foreground, light, sound, etc.)
Accurate edit
FantaMorph Deluxe – Advanced features include:
Morph unlimited images
Create Layer Morph
Camera and Track Curve
Add caption, filters for movie
Add sequence effect
Export 32-bit AVI
Export transparent GIF
Intelligent tools for face morphing/mixing
and much, much more…