What Is 123FormBuilder?
123FormBuilder is (as the name suggests) a drag and drop form building tool that allows users to build forms from scratch in a few easy steps. The tool can be used to create forms that range in complexity from very simple (e.g. basic contact forms) to complex (e.g. using conditional logic, notifications, and so on). Furthermore, 123FormBuilder has made available more than 1,900 form templates ready to use and/or customize by businesses in a variety of industries.
Why Are Online Forms Helpful?
Online forms allow you to collect essential information from users and employees and make business decisions based on accurate data, rather than hunches. Furthermore, online forms can help you create internal and external workflows that are seamless to integrate and easy to use.
Some examples of how online forms can be used include:
Event registration forms
Contact forms
Surveys and quizzes
Order forms
Sales lead forms
Internal requests forms
Donation forms
Medical forms
Referral forms
… And so on.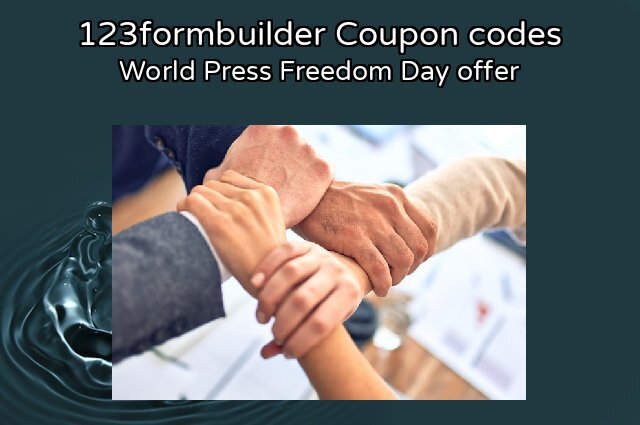 Easy to Use, Drag and Drop Form Builder
Using 123FormBuilder is extremely easy. Basically, you simply have to drag and drop the elements into your form, as you can see in the screenshot below: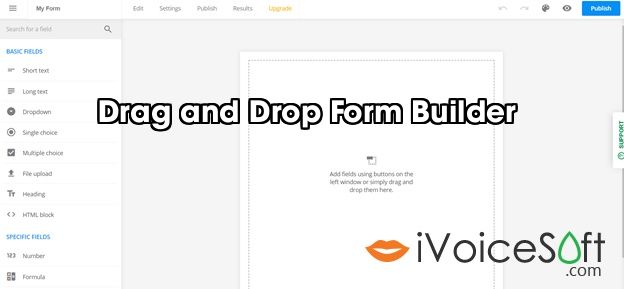 Furthermore, you can also import scanned forms and transform them into digital forms as well, by simply clicking on the Scanned Form button, and then uploading your file. The tool will automatically help you transform this into an online form.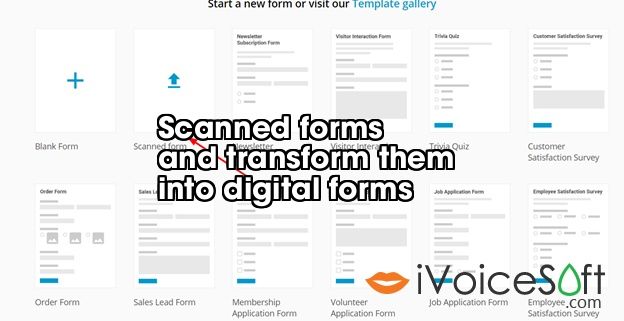 123FormBuilder is a tool that allows you to create complex forms as well – such as, for example, forms that include conditional logic. To do this, you will have to use the Rules section under Settings, as shown in the image below: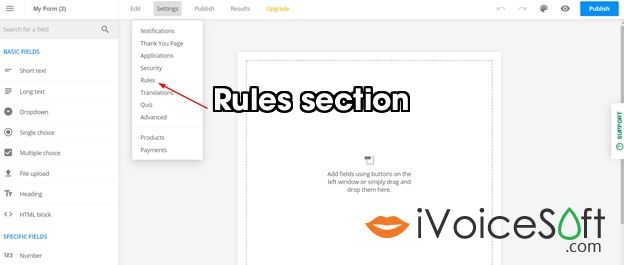 Last, but definitely not least, all forms created with 123FormBuilder can be completely customized to fit your needs. You have a lot of themes you can choose from, and you can also customize them with your own images, with your brand colors and fonts, as well as anything else you might want to personalize. You can also use CSS to customize forms, and you can upload your own themes as well.
Here's an example: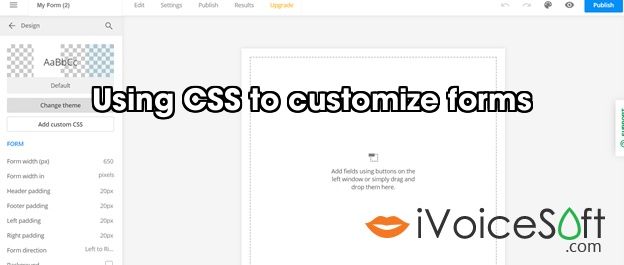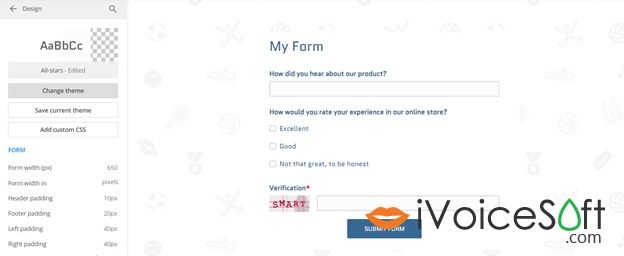 More than 1900 Form Templates
If you are looking for a quick solution to your information-collection efforts, 123FormBuilder has made available more than 1900 form templates, which are ready to use. You can also customize these forms to your needs. Some form template examples include:
Consent Form
School Admission Form
Clothes Order Form
Computer Order Form
Business Demographic Survey
Career Path Survey
Civil Case Information Sheet
… And the list goes on.
A Fully Integrated Platform
123FormBuilder is fully integrated with more than 80 popular tools, allowing businesses to easily connect their forms (and the information they collect) to other software applications and platforms they might use (including, but not limited to payment processors, Customer Relationship Management software, and Content Management Systems)
Here are some of the most popular third-party platforms connected to the 123FormBuilder tool:
Salesforce
PayPal
Google Drive
MailChimp
Zoho CRM
Evernote
Wix
Unbounce
WordPress
Zapier
Knowing that your form building tool is integrated with the most important and most commonly used digital platforms and tools gives you peace of mind – precisely because it also means that you know, for certain, that you can easily work with 123FormBuilder and use it in an efficient way.
Notifications to Stay in Touch
123FormBuilder gives you access to an entire Notifications section that allows you to receive and send email notifications to those who have submitted their forms. Same as the entire tool, the Notifications section is highly customizable to adapt to your needs.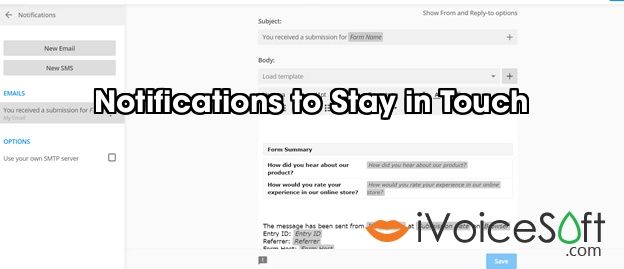 All in all, 123FormBuilder is a comprehensive and extensive tool that allows you to collect information in the easiest, cleanest, and most efficient way there is. You can get it here, and there are three packages you can choose from:
Free (for up to five forms)
Gold (gaining access to third party apps)
Platinum (including payment collection and unlimited forms)